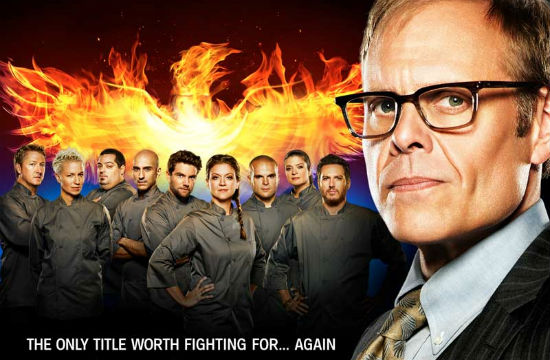 We're only ever so slightly surprised that Food Network imported some Top Chefs from that other network with that other huge chef competition to take part in season five of Next Iron Chef, dubbed Next Iron Chef: Redemption. This season, runners up from previous seasons shall return to chase the elusive title and join The Chairman's team alongside such Iron Chefs as Bobby Flay, Cat Cora, Michael Symon, Marc Forgione, Jose Garces, Masaharu Morimoto, and Geoffrey Zakarian.
Also, if you've had an Alton Brown/bow tie-shaped hole in your heart since Food Network Star wrapped up, the return of Next Iron Chef means Alton will resume his hosting duties and grace your screens once more.
Alright, we'll cut to the chase. The Next Iron Chef competitors returning for redemption are:
Nate Appleman (Season 2)
Amanda Freitag (Season 2)
Eric Greenspan (Season 2)
Jehangir Mehta (Season 2)
Elizabeth Falkner (Next Iron Chef: Super Chefs)
Alex Guarnaschelli (Next Iron Chef: Super Chefs)
Spike Mendelsohn (Next Iron Chef: Super Chefs, Top Chef: Las Vegas, Top Chef: All-Stars)
As well as first time competitors:
Tim Love
Marcel Vigneron (Top Chef: Los Angeles, Top Chef: All-Stars)
Yes, you read that correctly. Wolverine is back.
The final slot will be filled with a special FoodNetwork.com web exclusive competition between returning Next Iron Chef runners-up Duskie Estes and Robert Trevino, and newcomers Lee Anne Wong and Madison Cowan
The new series kicks off November 5th (whoa, how close is Thanksgiving, you guys?), and a short eight episodes later, Kitchen Stadium will have a new Iron Chef. (And if it's Wolverine, we'll boycott. Although, we cannot wait to see Alex Guarnaschelli's Marcel-directed snarkfaces.)
Have a tip we should know? tips@mediaite.com