Old and New NYT Restaurant Critics Converge for One Epic Conversation at NYCWFF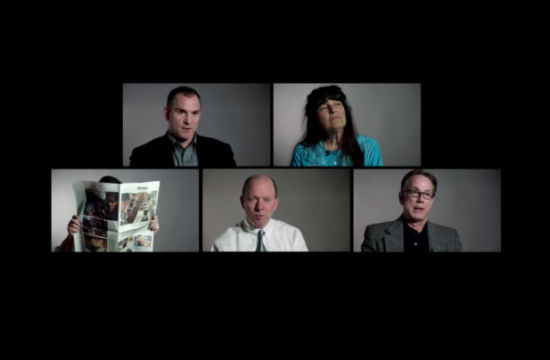 For the first time ever, Ruth Reichl, William Grimes, Sam Sifton and Pete Wells came together to talk about what it's like to have one of the most coveted jobs in the food world. To be more accurate, Pete Wells was not actually on stage with the others, but phoned into the discussion from an undisclosed location in order to protect his identity.
The four critics gave the Times Talks audience special insight into just how hard eating for a living can be. (I will gladly fill that seat for you if you're not feeling up to it Pete). According to Reichl: "The distinction is that no one can ever replicate your experience. Being fair is much harder as a restaurant critic more than anyone else. So you have to learn to trust your appetites."
But does constantly eating out and often having two dinners each night ever get old for them? What about staying healthy and not gaining a million pounds from all that food? Grimes told moderator Richard Berke, "I would eat out as often as I could without feeling jaded. Otherwise you're not doing the restaurant justice." Reichl, who was working as a restaurant critic for twenty years before she even came to the Times, said that she never gets tired of eating out, and she's definitely never been to a gym. Although she did admit to packing away leftover food into plastic bags at restaurants she was reviewing because leftovers are "suspicious."
For Wells, staying in shape is mostly about moderation: "Strangely, I tend to eat less than everyone else. When I've figured a dish out and know what I think about it — I stop". He's also tried cutting drinking out of his diet, but joked that those restrictions typically only last about "three or four hours".
What exactly goes into ranking restaurants and the star grading system was also a hot topic. All four critics seemed to be on the same page about the fact that the same number of stars can mean different things for different restaurants. So, while a one-star review for a hole-in-the wall noodle shop could be perceived as positive, if an established white-tablecloth French joint got the same review, they'd be devastated.
While service certainly factors into their rankings, the critics said that they would never imagine leaving a restaurant without tipping. Most of them typically tip upwards of twenty percent. Then, there was the question of roaches. Sifton dismissed the idea of that having any influence on reviews: "Roaches happen. I wouldn't have mentioned it. Its not about the roach, its the way they handle the roach."
For more stories from the four critics, check out the critic's five-part video series here.
Have a tip we should know? tips@mediaite.com