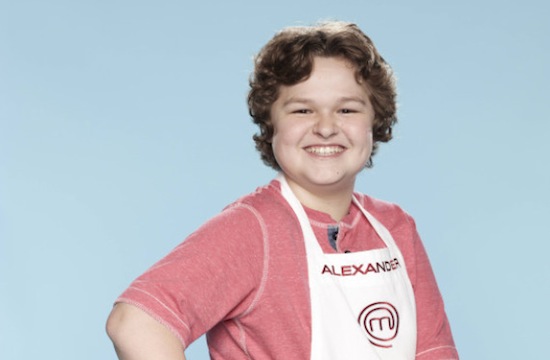 We can't help it — we just think this 13-year old cooking whiz is awesome. So we were happy to read a new interview with Alexander Weiss, who, fortunately, is just like any other normal kid.
The Huffington Post caught up with the winner of the first season of MasterChef Junior, and he's just doing his thing — cooking, getting pressured by his peers to make better school lunches, working on his soufflés:
I still haven't mastered my soufflé yet. My first one, I made a raspberry soufflé and it was soup. My second one, I tried a raspberry one again and it was soup again. Then I tried a passionfruit one and it was OK, but that was when Dara [another "MasterChef Junior" competitor] came into town so I had her help. Still, together we couldn't get the soufflé. So that's my quest now, the soufflé.
Talking about soufflés like it's a path to be conquered a la The Hobbit, we love it. Speaking of, Alexander is still buds with his MasterChef Junior competitors:
We never hated each other. I think that it's a whole different animal from the adult version. On the adult version, there were some friendships and things like that. But MasterChef Junior is completely different. I think in the season that aired, we were all friends with each other. We were all competitive, but we weren't mean about it. We weren't trying to scare each other or anything. It was a really friendly competition.
No word yet on whether Alexander will be visiting the newest cast of MasterChef Junior — we hope he does, to instill some good-loving fear in them all.
RELATED:
"MasterChef Junior Season 2 Now Casting
MasterChef Junior Judges Totally Expected Kid Chefs to Suck
WATCH: And the Winner of MasterChef Junior Is …
Have a tip we should know? tips@mediaite.com