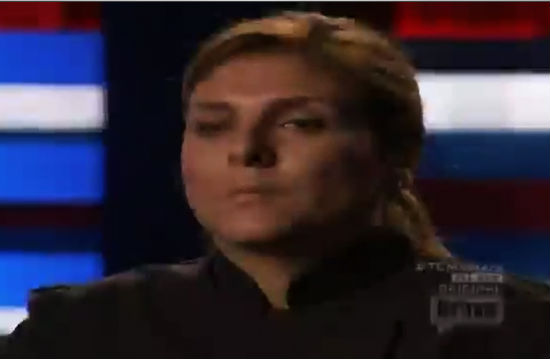 We realize you might be missing your weekly good-natured Chris Cosentino vs. Art Smith brawls due to Art's unfortunate departure from Top Chef: Masters last week. Luckily, after Patricia Yeo and Lorena Garcia's spat during Restaurant Wars, the pair seem to have cultivated a feud to last us through the second half of the competition. For your convenience, you can consider Patricia the snarky, subversive, passive aggressive Art Smith to Lorena's fiery, combative Chris Cosentino.
Lorena's whole not-cleaning-up-after-herself incident during Restaurant Wars seems to have left a bad taste in Patricia's mouth permanently. She's stuck on the notion that because Lorena isn't a restaurant chef, she has no business doing well in the competition (let alone being there at all). Of course, in standard Patricia Yeo fashion, this festering bitterness manifests itself in passive aggressive comments and a relentlessly condescending tone when it comes to discussing all things Lorena. In turn, The Queen of Cilantro's spicy persona leads her to attack when provoked.
This week, when the pair faced off in the boxing ring, Patricia went after everything from Lorena's knife skills to her finished dish, expressing not-so-subtle surprise that Lorena actually beat her in the head-to-head competition. Meanwhile, Takashi and Chris' round was chummy as all get out, with Takashi jovially letting Chris borrow one of his eggs and Chris benevolently gifting Takashi an extra portion of bacon when he accidentally ran out. There seemed to be a lot of talk about mutual respect in the boys' club, which the girls aren't quite grasping.
Ultimately, Lorena and Chris faced off in the Champion's Round, and Lorena won the whole tournament, much to Patricia's dismay. Takashi and Patricia battled for elimination, and Takashi was sent home. (Kerry Heffernan won the Quickfire, and, thus, was absolved of entering the ring.)
Check out Lorena and Patricia's round below.
Have a tip we should know? [email protected]