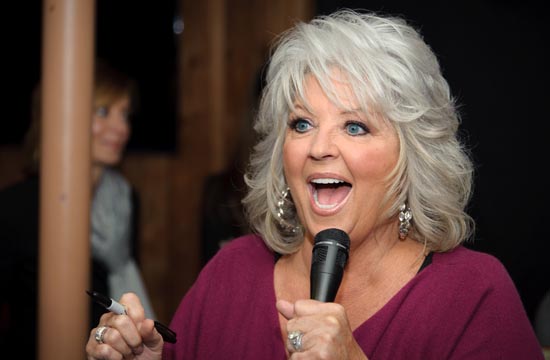 Y'all, Paula Deen is as Southern as cornbread, diabetes, and General Robert E. Lee. But you know what isn't Southern? Intense competition. (I should know! I just finished reading Malcolm Gladwell's Outliers and now I understand the sociological culture of honor, bitches.) But yes, Paula Deen is not into this fighting business and has no interest in gettin' into feuds with warthog rectum-eating oddball media kings who criticize her eating habits.
So when Paula Deen develops a culinary competition show that she'll host, it won't be called "Society Wives Passive-Aggressively Tell You Your Food Is 'Darlin' But Complain About Your Children Behind Your Back."  Instead, she's calling it "Food Chain," basing it off an Italian cooking show called Cuochi e Fiamme. The format, which Eater describes as a cross between Chopped and Iron Chef, involves two amateurs cooking the same dishes for a three-course meal for a panel of judges. Of course, there are all sorts of crazy rules (only 30 seconds to get pantry ingredients, for instance) and fancy lighting and the judges are going to have to be harsh and unforgiving, which makes one wonder how passive-agressive Southern charm will work on this. Maybe that's why she's shopping it on non-Food Network channels.
PS: How did people not come up with the name "Food Chain" for a cooking competition already?
If you want to know what the promo is like (linked on Eater), imagine the video below, but with an English voiceover describing the action. Your old Iron Chef Japan skills should come in handy for this.
Have a tip we should know? [email protected]