Tonight, on Restaurant Startup, we meet new investor Elizabeth Blau, who "turned Sin City into a dining destination," and we get into the fast-casual game.
First, we have Lara Whittington and Jennifer Bonner, a couple who has been married for two years and in business together for eight. They own Full Circle Tavern in Dallas which serves pretty traditional tavern food (burgers and the like). Jennifer cooks, Lara does the marketing, and they're looking to expand into sliders.
The ask: $200,000 for 15% ownership in Full Circle Sliders
Tim Love and Elizabeth taste the food, and they both really like it. Tim wishes their potato chips were homemade but Elizabeth doesn't really care- she's all business, and she wants to make them a multinational brand. Compromises have to be made. The business is currently profitable, and they're bringing in up to $80,000 per month. Tim is concerned that sliders are played out, but since it's not just burgers (they also have sausages, etc.) they have an edge. Everyone agrees that the business would be easy to replicate, which in this case is a good thing.
Next, we meet Thomas Nguyen, Michael Tran, and Paul Friedman, owners of Peli Peli in Houston. Peli Peli is a fine dining South African restaurant, and they're looking to create Peli Peli Kitchen, the fast casual extension of their business. It's food that hasn't been done before, and they want to get South African cuisine on the map.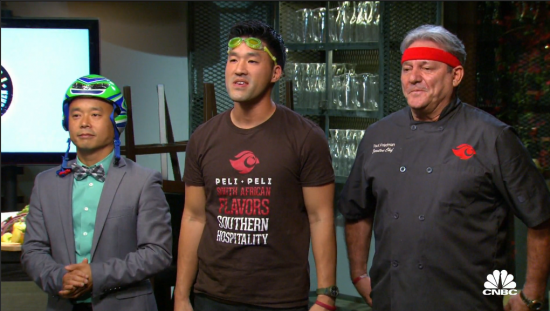 The ask: $350,000 for 25% share in Peli Peli Kitchen
The food is delicious, and though it's unfamiliar, it's easy to get behind. Everyone loves a good prawn roll. Their restaurant is doing well, but besides the money, they're looking for expertise and branding help.
The check average at their current restaurant is $50, which concerns Elizabeth. She feels that people who go to their fine dining restaurant are adventurous and willing to try things, and that this might not translate. This logic literally makes no sense. Why would someone willing to spend $50 not be willing to spend much, much less?
They pick: Peli Peli Kitchen
Elizabeth and Tim stress that people need to understand the restaurant concept the moment they walk into the restaurant, so they plan to go out into the streets in full costume with a megaphone to yell at innocent people on the street about the wonder that is South African cooking. Antonia Lofaso, for some reason, thinks this is a great idea. I do not think this is a good idea. I think this is scary. I've never responded well to someone dressed in costume screaming at me through a megaphone. They do hand out free samples though (something I always respond well to) and the people like it.
Michael, Thomas and Paul decide to bring their own staff. How have people not done this before?
Antonia comes by to taste the food, and I'm very certain she'll call the food beautiful.
She doesn't. She says "fantastic."
She calls the spices beautiful! I'm pleased that I called right, but there's no one but me in my apartment and I celebrate alone.
Her one complaint is that the menu isn't spelled out enough, and she recommends explaining the food as though you're explaining it to a child, which for some reason Thomas thinks means calling a prawn "the pimp of shrimp" and "barely legal." Remind me never to ask Thomas Nguyen, Restaurant Startup contestant, to babysit my children.
I'm not concerned about people being confused by South African food. People want to try new things more than ever. Look at how we've all jumped on Esan Thai food and other unfamiliar regional cuisines. I'm more concerned about the fact that the average check is going to be $18 per person, which is a lot more than most fast casual places.
Service is kind of a disaster, but it doesn't matter that people don't know what South African food is. The issue is that they're holding their food at unsafe temperatures and people are getting stuff they didn't order. No matter. The food is good.
In the end, 100% of diners enjoyed the food, 80% left understanding the cuisine, and 95% would return. The check average was $19, so I guess that wasn't an issue in the end. They served 120 people, significantly more than the 80 they anticipated. Despite the operations issues, both Elizabeth and Tim want to invest. But, they don't only want a piece of Peli Peli Kitchen. They want in on the fine dining restaurants too.
Elizabeth's Offer: $1million for 25% of the entire operation.
Tim's Counter-Offer: $1.2million for 25% of the entire operation
Elizabeth's Counter-Counter-Offer: $1.25million for 25% of the entire operation
They accept Elizabeth's offer, and it's the largest deal ever made on the show. BUT, PLOT TWIST: Elizabeth asked them to make operational changes before finalizing her investment. They wouldn't, and accepted offers from other investors instead.
There is still no Peli Peli Kitchen, but they plan to open one in 2016.
[Image via Screen Grab]
Related:
Restaurant Startup: Meet Elizabeth Blau
Restaurant Startup Recap: A Star is Born
Have a tip we should know? tips@mediaite.com