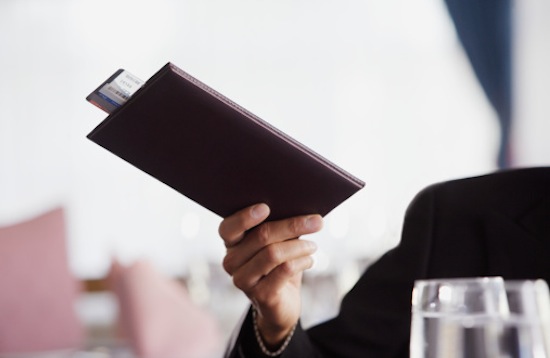 The "to tip or not to tip" debate continues. Restaurateur Gabriel Stulman announced in December that he'd test out a "hospitality included" policy at Fedora, one of his New York City restaurants, and if it worked well, he would implement the policy at his other properties, which include Jeffrey's Grocery, Perla, and Joseph Leonard. But, after four months, he's going to go back to tipping.
In a statement to Eater, Stulman said:
While we made the determination that a gratuity free system does not work for our business at this time, we continue to believe that it has the potential to change hospitality for the better. We hope it's the future for more restaurants, including our own, and we're thankful for the support of our colleagues who remain committed.
The reason, he said, was customers' perception. He said that although they generally appreciated the transparency that comes with tipping, after seeing menus, they would order less food than they did before the price hike. Even though final bills probably wouldn't be so different, people generally don't think about the added cost of gratuity when they look at the prices of menu items. People also ordered less expensive bottles of wine than they used to, and the restaurant was making less money overall.
He's not the first restaurant owner to have issues with the new system. Roman's in Fort Green has had trouble since adopting the policy. One reason is that now that the playing field is leveled in terms of wages, no one wants to work on hectic Friday and Saturday nights. If you can earn the same amount of money during a quiet weekday lunch, what's the incentive? It's also difficult to deal with change after working one way for so long. Right after the policy was announced, a longtime server quit. Another followed her.
Danny Meyer has had a different experience. Union Square Hospitality Group is one of the first to begin a "hospitality included," and by the end of this year, all of the restaurants in the group will have eliminated tipping, with the exception of Shake Shack, which isn't sit down. He started with The Modern in December, and in its first month, it was the most profitable December the restaurant has ever had.
Lots of other restaurants are falling in line. Tom Colicchio has eliminated tipping at lunch at Craft, and is looking toward dinner as a next step. The more restaurants that do it the better. As Meyer put it, "we have been conditioned, after many, many years as consumers, to believe that the $25 chicken entree is $25. And then when we add the tip, we truly feel like it came out of a different pocket, and we don't put that calculus into it." It's difficult to compare prices at restaurants when one menu includes gratuity and another doesn't.
When Stulman adjusted the prices and reinstated tipping, customers started ordering the way they used to. Unlike Roman's Stulman hasn't lost any employees, and he still agrees with the "hospitality included" policy. It just wasn't the right time. He told Eater:
I hope our choice to try it gives some people some courage to try it. I hope our choice to go away from it doesn't discourage anyone. I hope that not only Fedora but all our restaurants at one point in the future can go back to the system, because I think it's the right system.
–
Have a tip we should know? tips@mediaite.com