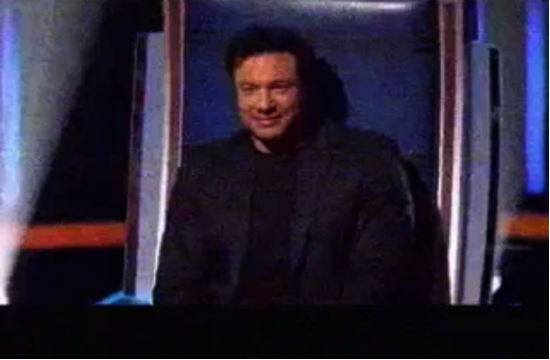 Fox always knows how to comfort us through a long, scripted TV-less summer by offering up every wackadoo reality show premise known to man crammed into every single weeknight prime time slot available. Introducing: The Choice. The Choice is like The Voice (what with the spinny chairs and the "blind audition" and the like), except it's a dating show. With celebrity bachelors. Blindly picking from a dating pool of lovely bachelorettes with whom to go on a date.
It's kind of like Singled Out for Gen Z. Frankly, we would rather MTV just played Singled Out reruns all summer. Or maybe we just need to rewatch the Boy Meets World episode where Eric is a contestant on Singled Out and lies about going to Harvard? Either way.
On The Choice, after celebs "pull their love-handles" to signal interest in a bachelorette, she gets to choose which one's dating pool she'd like to swim in. Then comes the "speed choice" round in which the boys narrow their dating pool by asking some rapid fire getting-to-know-you questions of the ladies. The good news for you is two-fold: one, we watched the episode so you don't have to, and two, the series is hosted by the impossibly lovely, charming, all-around baller hostess Cat Deeley.
On last night's episode, celebrity bachelors Mike "The Situation" Sorrentino, NBA footballer Warren Sapp, and American Idol Season 5 winner Taylor Hicks were joined by People Magazine's "Sexiest Chef Alive" — Rocco DiSpirito! While he was impressed early on by his fiery Peruvian pick, (spoiler alert) he ultimately settled on the more grounded smarty-pants Lexy. Check out the clip below to watch Rocco's speed dates. He actually had a pretty discerning interview process, while The Situation's final question left us agape over our morning coffee.
Have a tip we should know? tips@mediaite.com