Sandra Lee Helps Hurricane Sandy Victims Despite Having No Power In Her Own House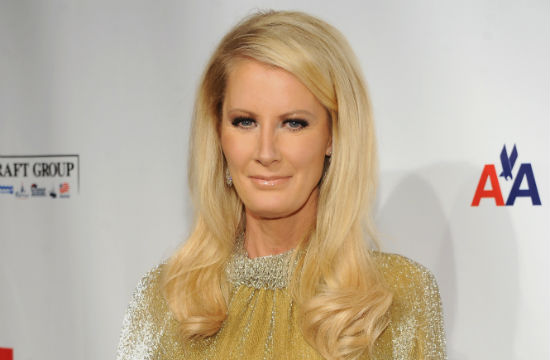 Nothing broadcasts "This Is Not A Photo-Op" like forgoing your morning beautification routine to throw your hair in a ponytail, don your best comfy jeans and snuggly sweater, and hit the pavement to do some good. Especially if your makeup artist has won an Emmy.
Sandra Lee dutifully fulfilled the role of Governor Cuomo's First Ladyfriend and rushed to New York City to aid in Hurricane Sandy relief efforts. She climbed flight after flight of stairs in buildings where elevators had gone out to deliver Citymeals on Wheels to senior citizens who were homebound, and rolled up her sleeves at the Bowery Mission to serve its influx of storm victims.
"We were headed to one woman's apartment, but she'd been taken to the hospital. She hadn't had water for days," Sandra told New York Daily News of one Citymeals trek. "There are some dire situations out there, but help is on the way."
She also reached out to Sears and Kmart, both of whom carry her housewares line, and got them to cut a $25,000 check for relief efforts, in addition to convincing them to donate supplies and add $10 to rewards cards for their customers in the NYC area.
"I reached out to them and said, 'We have to do something here,'" she revealed. "They said, 'Just tell us what you need.'"
And this is all in spite of the fact that her own home, shared with Governor Cuomo and his daughters, was without power. Sandra shrewdly took the opportunity to sound a global warming warning.
"We all have to be greener. We have to conserve energy," she cautioned with a wink. "Conservative isn't always a bad word, you know."
Have a tip we should know? tips@mediaite.com