Simon Cowell Reportedly Developing American Cooking Reality Series, Wants Adam Richman Or Anthony Bourdain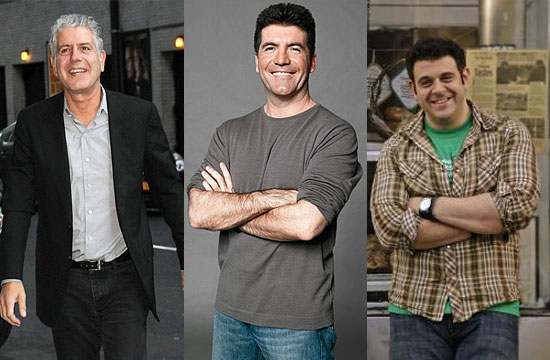 This reality cooking competition trend has now officially Reached The Zenith, because reality TV's great-granddaddy Simon Cowell wants a piece of that zenith-y action. Radar reports (so take this with a grain of salt) that Cowell, known for producing entertainment behemoths like American Idol and The X-Factor, is in talks with FOX to bring his newly-launched UK cooking show, Food, Glorious Food!, to the US. (Apparently the pun-addicted British press corps have started calling it the Eggs Factor.) The kicker: he wants either Adam Richman or Anthony Bourdain to host.
The notoriously judgemental Cowell does not appear in any episodes of Food, Glorious Food!, named after a famous musical number sung by starving orphans in a workhouse. But the show sends judges "around the country looking for unique recipes for dishes that would be suitable to be sold in a high-end supermarket store," according to Radar. The winner not only gets that honor, but also receives a cash prize.
"It's a little bit like Antiques Roadshow meets Top Chef… and Simon believes it could really take off," an unnamed, completely trustworthy source says.
As for why Cowell wants the Man who Versuses himself against Food, or the guy who barges into restaurants with no reservations, to host the US version of the show, the random source says that Cowell is a huge fan of both. Profanity? Excess? Yale-trained dramatists? Why, yes, these are some of Simon Cowell's favorite things.
Besides, the UK version already has two big-name food stars on it — Tom Parker Bowles (yes, he's the son of Camilla, you ignorant American), and Masterchef host Loyd Grossman — so for Cowell to land someone like Richman, who is quite obviously the Mariah Carey of the food world, would be fitting.
(Does that make Bourdain Steven Tyler?)
Have a tip we should know? tips@mediaite.com