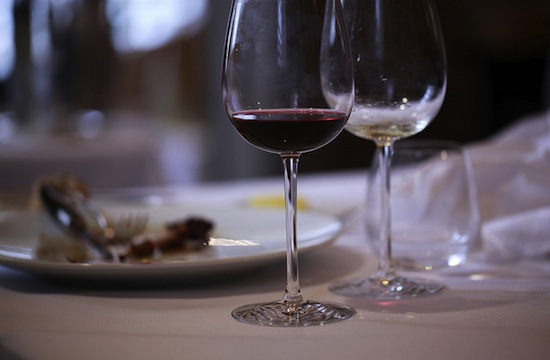 At least that's what our poor man's reviews of restaurants say, anyways.
A new study just out from researchers at Stanford and Carnegie Mellon analyzed the "linguistic structure" of nearly 900,000 Yelp reviews, reports the Washington Post, and the findings aren't all that surprising. Meaning that when we talk about fancy, over-the-top, $$$$ restaurants, we usually compare the foods to sex. And when we talk about cheap, delicious, $ restaurants, we usually compare the foods to drugs. From the Washington Post:
The cheap good eats prompted a lot of variations on addiction, craving, chocoholics, jonesing, bingeing, drugs of choice, food crack and edible crack. The good expensive restaurants, meanwhile, included a lot of food that was erotic, pornographic, orgasmic, tempting, voluptuous, sinful, sultry and sexy (evidently not words you would use to describe a two-dollar slice of pizza).
What about this pizza slice, though? Seems pretty pornographic to us.
The study took a deeper look into the kinds of food we describe as "addicting," and the foods we describe as "orgasmic." And yes, those who eat fancy food basically see themselves as fancy. What's not mentioned in the study, but perhaps implied, is that the foods described as "addicting" were all "cheap" foods — a large socioeconomic factor that we wished we would have talked about more. From the study:
Foods that are described as being "addicting" or "craved" are described as "comfort food", using adjectives like "fried", "unhealthy", "authentic", or "cheap". They consist of fried, starchy, or sweet foods. These are generally not normative, "sit–down–dinner" entrees, but rather take–out food, fast food, or snacks. The ethnic foods most likely to be craved are dishes that are small and perceived as non–normative, snack–like dishes: sushi, dim sum, falafel, tacos….

The fact that reviewers use more complex words and write longer reviews for more expensive restaurants suggests that reviewers are adopting the stance of the high socio–economic class associated with expensive restaurants. The use of this higher level of educational capital is thus another way that the review offers a chance for self–depiction, in this case a way for the reviewer to portray themselves as well–educated. By using the metaphor of sexuality and sensuality in these long reviews the reviewer further portrays themselves as a food lover attuned to the sensual and hedonic element of cuisine.
The study also finds that one-star reviews on Yelp generally mimic the way we talk about tragedy — because when your waitress ignores you after trying to flag her down for more water, THAT IS TRAGEDY.
RELATED:
Gawker Reviews Museum of Sex's Restaurants, Is Nicer Than Ferran Adria About It
Emoji Yelping? A Thorough (But Not at All) Yelp Emoji Restaurant Search of New York City
Minnesotans Throw Nazi-Themed Dinner; This Is A Great Idea and Couldn't Possibly Go Wrong
Have a tip we should know? tips@mediaite.com