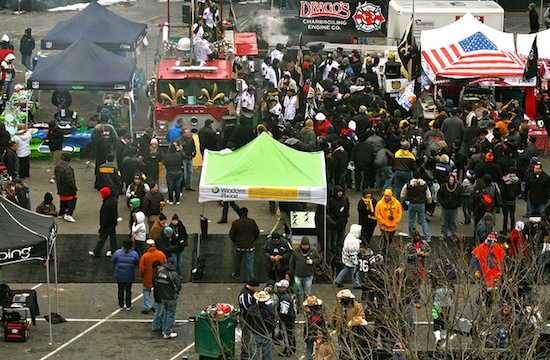 First Santa Con, now this – if you like getting drunk in costume for the occasion (you know, Christmas, the Super Bowl), New York City and New Jersey are being a really a huge buzzkill.
News reports say that officials plan to lock down the MetLife Stadium's parking lots starting one week before Super Bowl XLVIII, effectively shutting down all pre-game parties beforehand. Said one official to NorthJersey.com, "There is no chance that people who do not have credentials will be able to access the entirety of the Meadowlands Sports Complex on the week of the game." So, yeah — put the jerseys and brewskis away.
BUT!
There will be no concerts at the Izod Center or live racing at the track during Super Bowl week. Instead, the public focus from Wednesday through Saturday will be at "Super Bowl Boulevard" in Manhattan. That's the National Football League's free fan attraction, with autograph sessions and nightly concerts among the planned activities on each of those days on Broadway from 34th to 48th streets.
Did you see that? Midtown Manhattan — the same area that wants to get rid of the all the drunk Santas running around? Yeah, that same area will be overrun with drunk Super Bowl revelers, would-be tailgaters, and angry Giants fans (because you know, shit's not going too well for them). You're welcome, New York City.
RELATED:
NYPD Wants to Ban Santa Con; This Almost Makes Up For Stop and Frisk
Americans Spend Enough On Super Bowl Snacks To Solve Global Reproductive Health Crisis
Maxim Editor: Contrary To Reports, Guy Fieri Was Not Kicked Out Of Our Super Bowl Party
Have a tip we should know? tips@mediaite.com