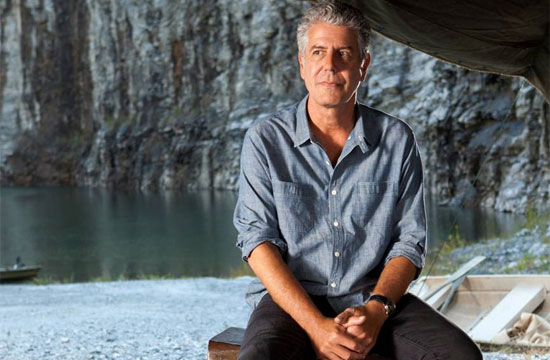 Behold, season four of some Emmy-winning goodness from Anthony Bourdain.
The eight-episode season of Parts Unknown will take Bourdain to Shanghai, the Bronx, Vietnam, Massachusetts, Tanzania, Jamaica, Paraguay and of course, Iran, according to a press release. It's accompanied by a nice little kicky promo video, below.
All the locations sound pretty interesting, in fact. The season premiere in Shanghai will take Bourdain to a lot of "home style" restaurants, as do the tours of Paraguay, Tanzania, and Jamaica. The press release also does mention that his guides for his Iran tour, Washington Post reporter Jason Rezaian and his wife Yeganeh Salehi, were "subsequently detained" after the making of the episode. We hope by the airdate there will be some sort of resolution to the detainment (according to a New York Times editorial recently, they are still being held by the Iranian government).
But perhaps the episode we're most excited to see is the Massachusetts episode:
Massachusetts (airdate TBA): In a departure for the series, Bourdain takes a trip to the Provincetown haunts of his post high school youth (The Atlantic House, The Lobster Pot) that marked the start of his culinary career, and he candidly discusses his descent into heroin addiction (and later recovery). He then heads to the western part of the state to throw light on the unexpected and exploding heroin problem in small town New England – discussing with residents exactly how this happened – and how they are learning to deal with it as a community.
Flashbacks to Bourdain's sordid past and a chance for redemption? Oh yes, please.
Parts Unknown premieres September 28.
[CNN]
RELATED: In Most Un-Shocking News Ever, Parts Unknown Wins Another Emmy
The Nicest People Anthony Bourdain Ever Met Were in Iran
9 Must-Watch, Binge-Worthy Food TV Shows This Fall
Have a tip we should know? tips@mediaite.com