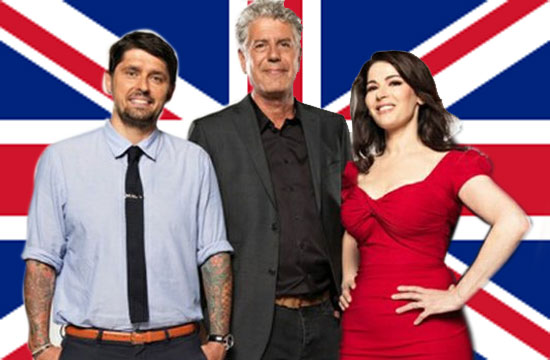 Maybe we're horrible elitists who do nothing but watch too much PBS, because despite all the groans and grumbles we threw at The Taste it has proven popular enough for ABC to sell the rights of the show to UK's Channel 4 — as well as loan out its three most popular judges.
Eater reports that Nigella Lawson, Anthony Bourdain, and Ludo Lefebvre will be heading over to England to host a British version of The Taste, with Nigella as the Unofficial Sexy Head Judge that Bourdain played in the States. Of course, strutting peacock Brian Malarkey will not be going to England to rejuvenate his judging career, leaving one empty spot open for a potential British judge. (How hilarious would it be to have Marco Pierre White as the fourth judge? We know, it would never happen, but the imagination is a fertile place.)
Channel 4's press release also noted that the rights to the show have also been sold to networks in seven different countries, including India, Russia, and the Netherlands. While we're sure these countries will remake the show with regional talent, why are we positive that Bourdain (and maybe Nigella, who knows) will beg their way onto the Netherlands show? (Hint: it's the legalized weed. We're not very subtle joke tellers.)
The UK Taste will air sometime in 2014.
[Eater]
RELATED
The Taste Season Two Judgecast: Ludo In, Malarkey Out
Bourdain And Lawson To Return For Season Two Of The Taste
Anthony Bourdain Finally Gives A Candid Post-Mortem On The Taste
Have a tip we should know? [email protected]