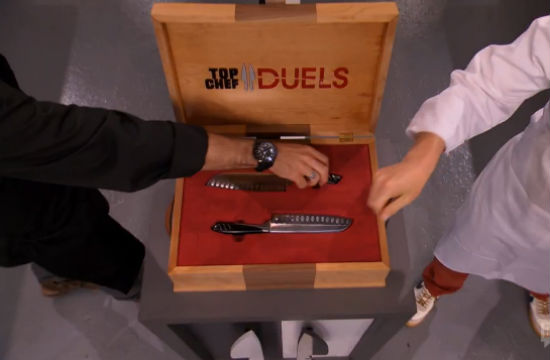 The latest spin-off in the Top Chef franchise is this summer's Top Chef Duels, which pits two Top Chef franchise famouses against each other in one-off episodic cooking competitions. We've taken it upon ourselves to rename the episodes thusly:
Heroes vs Villains vs Ridiculous Hairstyles: Richard Blais (Top Chef Chicago runner- up and Top Chef All-Stars winner) vs. Marcel Vigneron (Top Chef Season 2 runner up)
Holy Fucking Shitballs This One's Actually Really Scary: Shirley Chung (Top Chef New Orleans finalist) vs. Brooke Williamson (Top Chef Seattle runner up)
Bravo, Stop Trying To Make The Rival Cousins Thing Happen, It's Never Going To Happen: Mike Isabella (Top Chef All-Stars runner up) vs. Antonia Lofaso (Top Chef Chicago finalist)
Hey Remember That Time CJ Accused Stefan of Calling Girls 'Cunts' All Season?: CJ Jacobson (Top Chef Miami contestant) vs. Stefan Richter (Top Chef Season 5 runner up)
The Classy One: David Burke (Top Chef Masters Season 5) vs. Takashi Yagihashi (Top Chef Masters Season 4)
Anger Management: Where Are They Now?: Tiffani Faison (Top Chef Season 1 runner up) vs. Dale Talde (Top Chef Chicago and Top Chef All-Star contestant)
The Hotties: Nyesha Arrington (Top Chef Texas contestant) vs. Jen Carroll (Top Chef Las Vegas finalist)
The Lady Winner Face-off: Stephanie Izard (Top Chef Chicago winner) vs. Kristen Kish (Top Chef Seattle winner)
Southern Gentleman: Kevin Gillespie (Top Chef Las Vegas fan favorite) vs. Art Smith (Top Chef Masters Season 1)
Dear God, Is It Over Yet?: Championship Finale
Check out the trailer below.
[h/t Grub Street]
Have a tip we should know? [email protected]