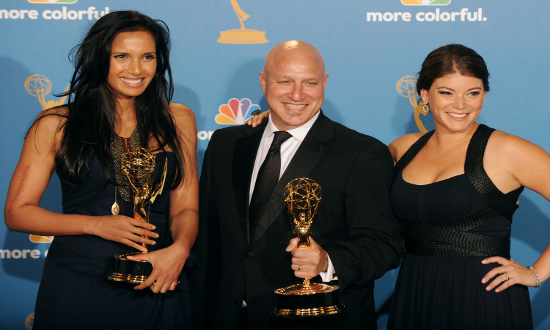 It's an open secret at this point that the tenth season of Top Chef will be filming in Seattle. Even though Bravo still hasn't confirmed anything, the rumors have been swirling for months and the sightings are adding up. But in case you've been living under a rock, or just aren't as addicted to the show as the rest of us, here's everything you need know about the upcoming season.
The rumors started when it was reported that Bravo had rented space in Seattle. What convinced most people that the city was a lock for the new season was several deliveries of ice that started arriving at the building soon after. Ice is apparently a vital component of the reality competition process.
After that, Top Chef scouts and consultants were spotted in the Melrose Market. While there, they met with a cheese monger to ask about using their logo on the show. Everyone knows you don't talk about logos unless you're serious.
Then, host and goddess Padma Lakshmi was spotted in Seattle having dinner, prompting people to suspect that the shooting is already underway. Shortly after that, Tom Colicchio and Emeril Lagasse were sighted in the city.
Gail Simmons was asked by local fans who saw her eating in Seattle to comment on the rumors. She didn't confirm or deny anything, but she did say she was "looking forward to exploring the area".
During a Top Chef: Salty & Sweet panel at the Aspen Food & Wine Classic, Colicchio told the audience, "I will not deny or confirm [that Seattle is the host city]. But, uh, that would be nice, wouldn't it?"
More recently, a newspaper confirmed that the show is filming in Seattle, although there's still no official word from Bravo or the show's production company Magical Elves. Another article mentions that a similar situation arose this time last year, but the company refused to comment until August. If and when they finally comment on the upcoming season, it's going to be the most anticlimactic announcement of the year.
The latest news spreading around food circles is that Seattle might share the season with Portland, Oregon. Portland was rumored to be in close contention for hosting duties, so now word is that the two cities will partner up. Wouldn't it make more sense to pick two cities from the same state? Top Chef: Seattle and Portland doesn't exactly roll of one's tongue.
So, there it is: a definitive compilation of all of the season 10 rumors, whispers, and rumblings. Let's all try to act surprised when the announcement is finally made.
Have a tip we should know? tips@mediaite.com