Last spring, Toronto chef Craig Wong was serving stoner food in a pop-up kitchen at Bloor West craft house Tallboys, previewing the Jamaican patty Double Downs and kimchi potstickers that would form the menu at dark and raucous Patois, (794 Dundas Street West, 647-350-8999). And by January, Wong was frying rice and roasting lobsters on the terrace of The Address, in downtown Dubai, discreetly previewing the menu for the Emirates' first modern Jamaican restaurant which he'll open in a hotel opposite the Burj Khalifa later this year. While some Toronto chefs struggle to move from Queen East to West (like Loka Snacks' Dan Mottershall) or south of the border (like BarChef's Frankie Solarik) Wong's transition was an easy one, so long as no one broke both his legs first.
"Three guys came in here. They sat at the bar and they had all this information about me. They knew what high school I went to, what sports I played when I was young…" Wong recalled. "I thought, that's weird, I don't think I owe anybody money. I knew they were going to come to me with some crazy offer or beat my ass."
Instead he got a plane ticket to Dubai and an offer he couldn't refuse from a private investor who scoured Europe and the States searching for a chef to bring modern Jamaican cuisine to the Middle East.
"It's going to be called Ting Irie, no one in the world's doing what we're doing," Wong told us.
Now his biggest concern is sourcing the ingredients to join him there.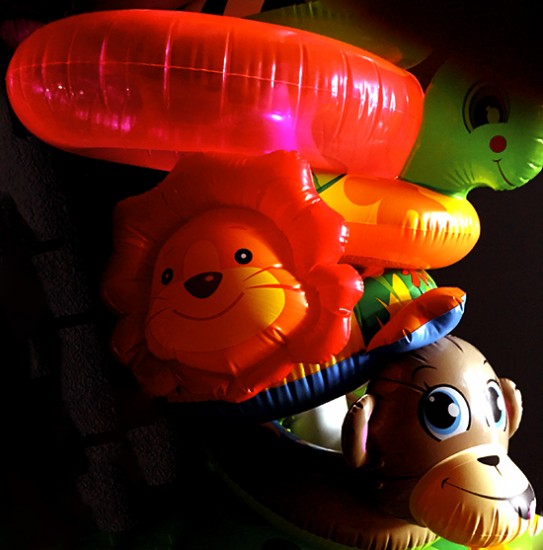 "There's no Jamaicans, there are no Caribbean ingredients," he said. "I'm used to using the Pimento that comes from my cousin's neighbor's tree. So now I'm relearning how to conduct business."
And while Ting Irie won't be Patois 2.0, where a line of disciplined cooks nightly fire up $99.99 Whole Shebangs, dozen-dish menus of fried and jerk chicken, hemp oil-roasted broccoli, and pineapple bun burgers, that spin on skateboard-wheeled "Ghetto Susans," under glowing animal floaties prowling the ceiling, Wong recognizes the potential for expansion.
"We could do this in other cities, Singapore, Hong Kong," he told us, adding the greatest reward of the restaurant is seeing other people who recognize the flavors of his own heritage:
"I hated my background growing up, being Jamaican-Chinese you don't fit in with Jamaicans, it's a niche within a niche within a niche. But when I got older and told people [my heritage] they'd flip out. So many people have come to me and said, "this is my childhood!" It's my childhood! But I'm so glad they feel kin to that."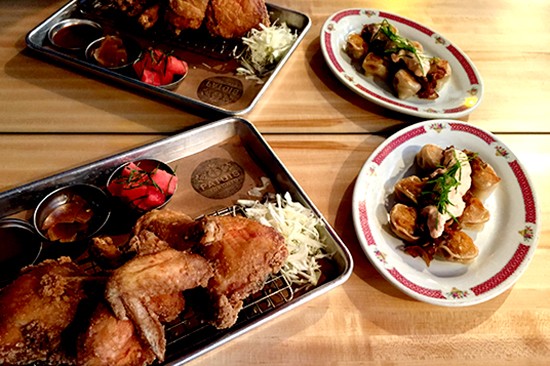 What not all diners realize is how Wong elevates his cooking with the education he received in France, graduating L'Institut Paul Bocuse then working at Alain Ducasse au Plaza Athenee. His fried chicken alone is dredged in five starches and comes sided with a plethora of pickled fruits and vegetables, plus a Sriracha secret sauce blended with Jordanian honey.
"It wasn't so much the French food, but the technique, the discipline I was after. It was almost like the army being there, and that's what I wanted. It's a calculated thing to have a party atmosphere, but to do this consistently," Wong said. "But I couldn't make a menu with that food I used to cook for other people, I had to respect myself."
Follow Adam Robb on Twitter @lifevicarious.
Have a tip we should know? tips@mediaite.com