Radiohead frontman Thom Yorke has lent his mug to many social campaigns over the years, but it's the one done without his permission that is strangely the most noteworthy.
Journalist Sobhan Hassanvand noticed a marital sex advice book that includes Yorke and author John Updike on its front cover, presumably without either man's permission. According to Hassanvand, it's a "book about sex problems between couples published in Iran," which makes the front cover imagery all the more baffling:
A pic of @radiohead's vocalist @thomyorke on a book about sex problems between couples published in Iran pic.twitter.com/TFKGGLs1Xw

— Sobhan Hassanvand (@Hassanvand) May 11, 2015
Yes, Yorke is famously gloomy, so perhaps any photograph of him works as a stock image for someone troubled by marital sex issues, but um, yeah. This is bizarre.
And in response to Hassanvand's post, a fellow Twitter user pointed out that Yorke's famously crestfallen look has been used for a Russian ad for migraine relief — again, most assuredly without his permission:
@Hassanvand @radiohead @thomyorke
russia.
"we will help you to forget about your headache and insomnia" pic.twitter.com/0pSqkI570L

— local stigmatic (@local_stigmatic) May 11, 2015
Sidenote: With those two images in mind, it's kind of amazing to look back at Yorke's actual advertisement mugging and realize he looks exactly the same in every serious photograph he ever takes. Here's his fair trade cocoa campaign ad for Oxfam back in the early aughts: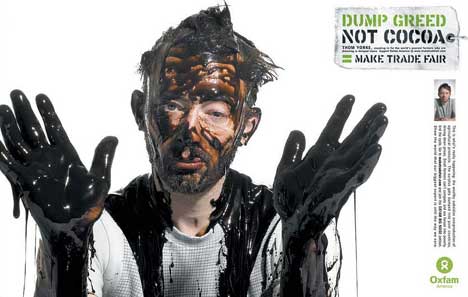 Now that just screams marital sex problems and chronic headaches.
[h/t Gawker]
[Image via Twitter]
— —
>> Follow Andrew Kirell (@AndrewKirell) on Twitter
Have a tip we should know? tips@mediaite.com