Vanity Fair Accuses Thomas Keller, Ferran Adria, Charlie Trotter & More Of Culinary Tyranny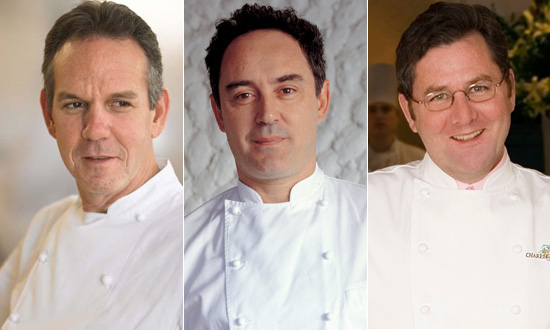 In a lengthy Vanity Fair op-ed on today's most celebrated restaurants, food writer Corby Kummer maligns chefs like Thomas Keller, Ferran Adria, and Charlie Trotter for bastardizing the French degustation menu to such a degree that a meal lasts four hours and stuffs a diner with forty courses over which they have absolutely no control.
Point taken. Tasting menus can be tedious. But tyrants? Shouldn't we be applauding chefs for finally grabbing their art by the balls and plating up the most fully realized expression of that art that they can muster? Doesn't a highly skilled, meticulously trained chef's thoughtfulness trump a diner's own preference for ketchup on a well-done steak? Presumably, that chef's wealth of knowledge on what tastes good is precisely the reason why a diner gives up all control and shells out $400 for it. Chefs are players in the service industry, sure, but shouldn't there be some degree of trusting the professionals at work?
Kummer does sense an antidote to this perceived horreur on the horizon, though:
Could it be that France, the culinary Forgotten Man, the birthplace of haughtiness, will show us the way forward? I recently came upon two signs it could be trying to fight its way back from the unaccustomed gastronomic shadows by adopting an even more unaccustomed humility. One was a radio interview with Jacques Pépin, the masterly, ebullient, encyclopedic teacher and writer on French food in America, who corrected the host when she asked about the chef as artist. "I never equate a great artist with a great chef," he said with unexpected vehemence. "Food is taste," not art. "A great chef is still an artisan." And in an interview with the Financial Times, the Michelin-starred, much-admired Parisian chef Alain Passard replied to a question about whether the customer is always right by saying, "Yes, always. I am there to serve others' commands, and I always do what I am asked to do. I put aside my own concerns when faced with a client who orders a dish cooked a certain way or asks for a certain seasoning."

Pépin and Passard are not quite waving the bloody banner and crying, "To the barricades!" But if they did, a hungry mob with knives and forks would be right behind.
To recap: diners subjected to rigorous tasting menus at The French Laundry are Les Misérables. Although, we're not quite sure that Jacques Pepin blurb is bolstering your argument, buddy. He's specifically pointing out there that food and art aren't mutually exclusive.
You can check out the whole story here.
Have a tip we should know? tips@mediaite.com