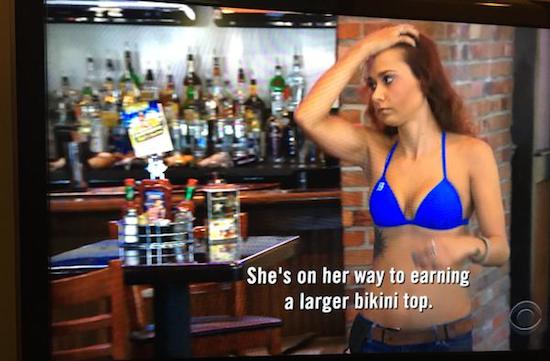 Boob jobs as job incentives? Firing employees who don't want to be filmed wearing nothing but a bikini? Yeah, that all happened.
Meet Doug Guller, CEO of Bikinis Sports Bar & Grill and general garbage bag of an employer. Guller, featured on this week's episode of Undercover Boss, portrayed the role very well of "head d-bag of 'America's first breastaurant,'" a title of which neither he nor his restaurants should be proud. But what did Guller do on this episode to make Twitter explode?
Well yeah, firing a gal who doesn't want the whole world to see her body. A waitress named Jessica was fired by a "f*cking pissed" Guller for refusing to wear just a bikini in front of TV cameras, and daring to cover herself in a T-shirt. But hey, Guller isn't all bad! Look at what he incentivizes his employees with! From TIME:
Just like Santa, Guller offers a different server a reward for her work ethic. "I'm going to make you a deal," he tells Grace, promising her a free breast augmentation if she's a "rock star" for the next six months.

"This makes my job so much easier," she says. "I don't even have to talk as much because they do the talking."
*facepalm facepalm facepalm*
Austin 360 notes that "to be fair, the 'breastaurant" owner — Guller trademarked the term in 2013 — also gave one employee a 30 percent raise and $10,000 for a family vacation and offered to help another worker with housing and medical expenses for her ill child." So, at least there's that.
Still, though, none of this was the joke (or heartwarming Undercover Boss episode) anyone was expecting.
Hey @CBS @undercover_cbs, this a joke, right? #UndercoverBoss Someone at CBS needs to be fired #OutofTouch pic.twitter.com/AGcHsa7cur

— Jon Rojas (@jonrojas) December 29, 2014
Nor this joke.
"@undercover_cbs: What a wonderful moment on #UndercoverBoss! #TryNotToCry" only for all the feminists whose work you just undid. #feminism

— Liz Sherman (@mslizzytish) December 29, 2014
So yeah, breastaurants (and all those in between) are still the worst. Not that we expect any of you to stop going to them, because they're still growing in profits. GAH.
[TIME, Austin 360, Jezebel]
Have a tip we should know? [email protected]