'This Claim Is Fair': CNN's Daniel Dale Fact-Checks Trump Attacks on DeSantis — Finds Several Accuracies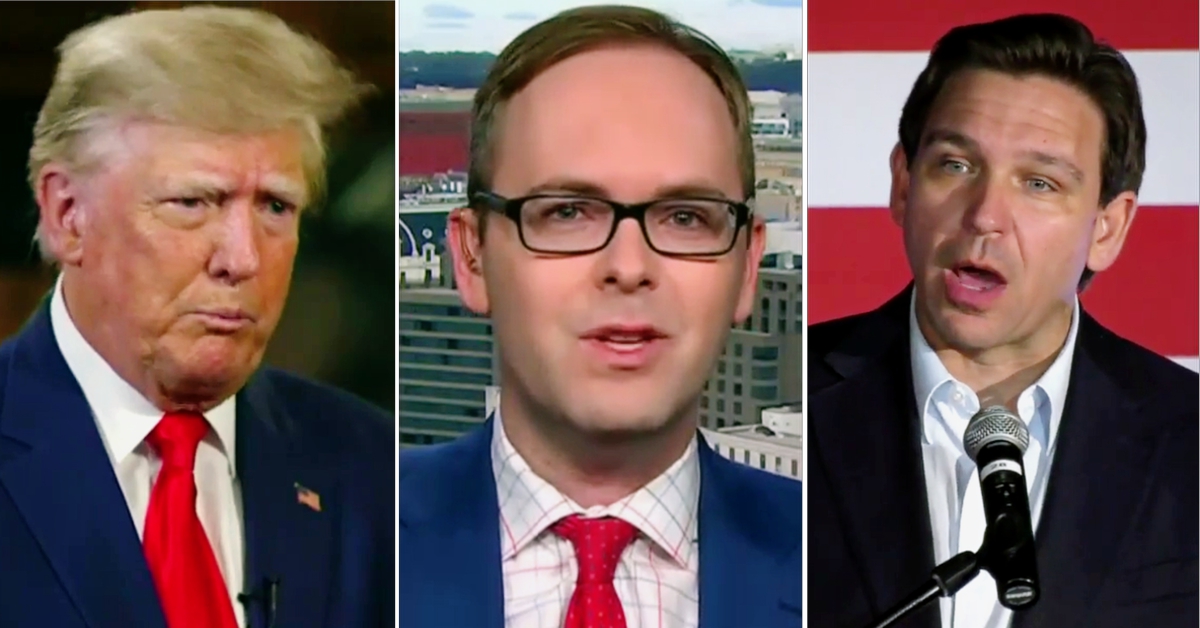 CNN fact-checker Daniel Dale evaluated a raft of former President Donald Trump's attacks on Ron DeSantis and found several accuracies, a lot of context-needed claims, and nothing he deemed an outright falsehood.
Dale got his big break tallying Trump lies for the Toronto Star, but there was nary a true whopper to be found in the now-CNN mainstay's most recent fack-check of seven attacks Trump has made against DeSantis.
The most damning ruling is on a specific Trump story about his endorsement of DeSantis, which he constantly uses to take credit for the Florida governor's entire political success. While Dale says Trump's story "can't possibly be true" he provides an explanation that indicates it was an error rather than an intentional lie:
Trump said at the rally that he initially told DeSantis he was too far behind in the Republican primary to be endorsed, but that DeSantis had "fought a little bit, just a little bit, on impeachment hoax number one, impeachment hoax number two, meaning on television. Because I didn't know him very well. But I saw him. So he came and really wanted it. I said, 'You can't win, can you?'…'Sir, if you endorse me, I'll win. Please, please, sir, endorse me.' And I said all right, let's give it a shot."

Facts First: Trump's story cannot possibly be true. Trump issued his official endorsement of DeSantis in June 2018 – but his first impeachment battle, over his effort to pressure Ukraine's president to investigate Joe Biden, did not begin until the fall of 2019. Trump might have been thinking of how DeSantis defended him over a special counsel investigation in 2017 into his campaign's relationship with Russia, which he has also called a "hoax," but that probe did not lead to impeachment.
Other claims tested, and their respective rulings, include:
DeSantis and beach closures – "Surprise, Ron was a big Lockdown Governor on the China Virus, sealing all beaches and everything else for an extended period of time." Ruling: Trump exaggerated.
Trump votes vs. DeSantis votes – "He got 1.2 million less Votes in Florida than me." Ruling: This is misleading.
Florida's crime numbers – "on crime statistics, Florida ranked Third Worst in Murder, Third Worst in Rape, and Third Worst in Aggravated Assault." Ruling: This needs context.
Florida's Covid-19 numbers – "was Third Worst in the Nation for COVID-19 Deaths (losing 86,294 People)" and "Third Worst for Total Number of Cases, at 7,516,906." Ruling: This too needs context.
Florida in other rankings – "Florida ranks #39 in Health & Safety in the Country, #50 in Affordability, and #30 in Education & Childcare." Ruling: Trump was accurately citing one website's rankings.
DeSantis's past positions on Social Security and Medicare – DeSantis "fought for massive cuts in Social Security and Medicare, and wanted Social Security minimum age to be raised to 70-years-old, or more." Ruling: This claim is fair
Read the full fact-check here.
Have a tip we should know? tips@mediaite.com