15-Year-Old Girl Allegedly Sexually Assaulted and Pepper Sprayed at Trump Rally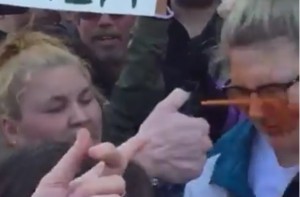 Police in Janesville, Wisconsin are looking for two men who they believe sexually assaulted and pepper sprayed a 15-year-old girl at a Donald Trump rally Tuesday.
"A 15 year [old] girl from Janesville was peppered sprayed in the crowd by a non-law enforcement person…" the Janesville Police Department said in a statement. "A male in the [crowd] groped the 15 year [old] girl, when she pushed him away; another person in the [crowd] sprayed her. We are currently looking for two suspects, one for the sexual assault and one for the pepper spray."
FIRST ON JANESVILLE COMMUNITY PAGE:Protester throws a punch and gets sprayed at #Trump rally in #JanesvilleVideo courtesy of Chris Conry

Posted by Janesville Community Page on Tuesday, March 29, 2016
A video of the altercation was posted to the Janesville Community page. "You just touched my breast," the girl can be heard yelling at a grey-haired man as the crowd laughs and boos. And then again: "You are touching my breast."
The girl throws a punch at the man who allegedly groped her, but is immediately pepper-sprayed. "Yeah, you bitch!" a man yells at her as she flees. Police intervene shortly afterwards to escort out other protesters carrying Black Lives Matter signs.
The newest violent incident is only the most recent in a long string of clashes with protesters at Donald Trump rallies. Most recently, Trump's own campaign manager Corey Lewandowski was caught on camera grabbing and pulling a protester by his collar.
Watch above, via Facebook.
[Image via screengrab]
——
>>Follow Alex Griswold (@HashtagGriswold) on Twitter
Have a tip we should know? tips@mediaite.com