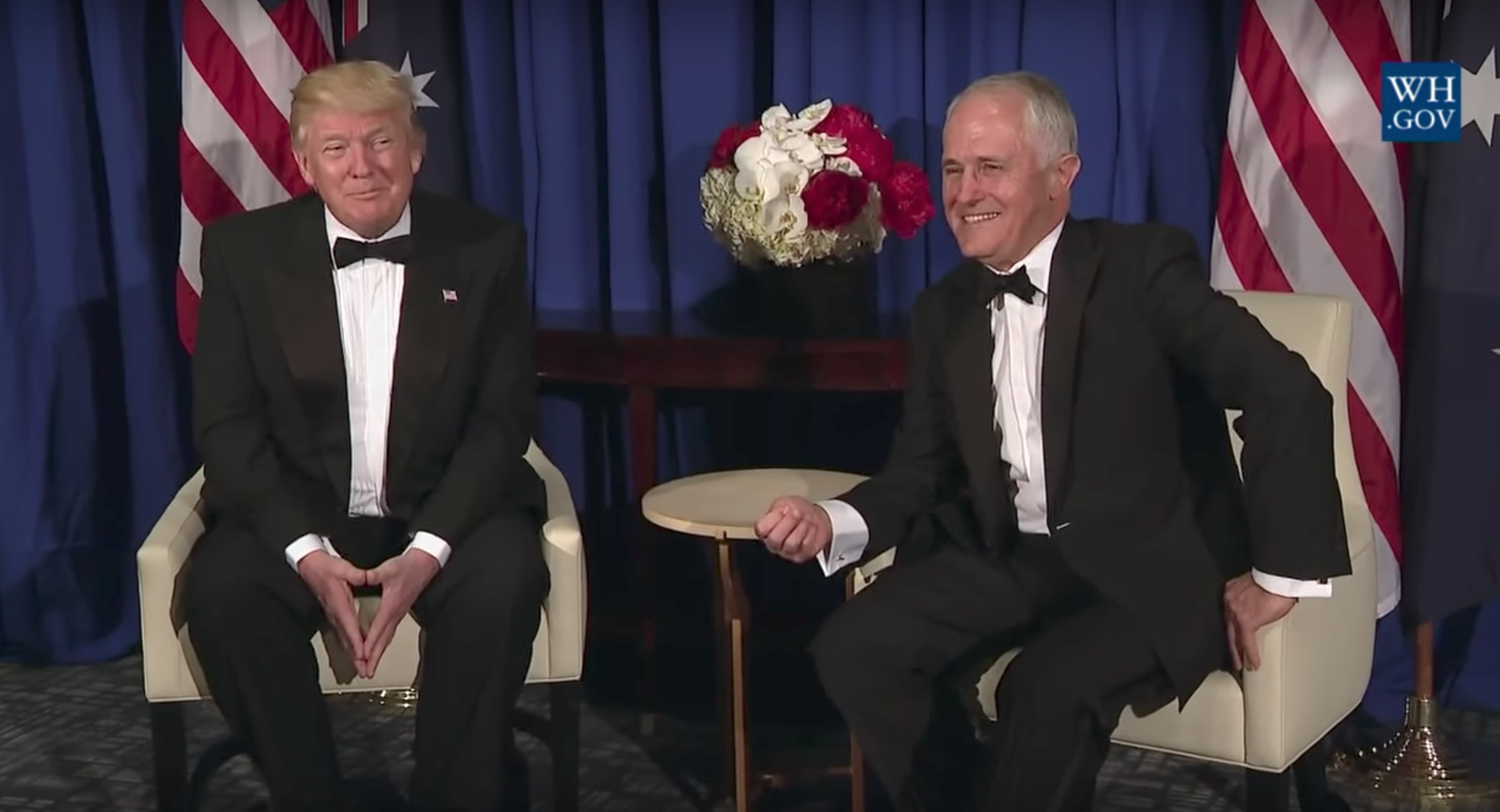 The Washington Post obtained the transcripts of President Donald Trump's first calls with Mexican President Enrique Peña Nieto and Australian Prime Minister Malcolm Turnbull — and published them in full Thursday morning.
The conversation with Nieto was contentious, and centered around Trump's campaign promises to build a wall on the Southern border — and the Mexican president's stern objections to the idea that his country would fund such a project. His call with Turnbull, on the other hand, was so heated that Trump ended it early, hanging up following a 25-minute argument about a refugee deal.
Thanks to the Post, we now have the full transcript of the call with Turnbull — and can present to craziest moments from the leaked conversation:
1. Trump says accepting refugees from Australia "will make us look awfully bad."
Trump's call with Turnbull came the day after the U.S. president signed the first iteration of his travel ban, and centered around an Obama-era deal that America would accept just over 1,000 refugees from Australia.
"Well, actually I just called for a total ban on Syria and from many different countries from where there is terror, and extreme vetting for everyone else – and somebody told me yesterday that close to 2,000 people are coming who are really probably troublesome," Trump said.
"And I am saying, boy that will make us look awfully bad."
2. Trump says refugee deal "is going to kill me."
After Turnbull explained to Trump at length the importance of making good on the refugee deal, Trump asked "why is this so important? I do not understand."
"This is going to kill me. I am the world's greatest person that does not want to let people into the country," Trump said.
"And now I am agreeing to take 2,000 people and I agree I can vet them, but that puts me in a bad position. It makes me look so bad and I have only been here a week," he continued, before receiving a reminder from Turnbull that the agreement is for 1,250 people.
3. Trump says refugees "are not going to be wonderful people who go on to work for the local milk people."
Trump told Turnbull that "I hate taking these people," despite Turnbull's reassurances that they are economic refugees.
"I guarantee you they are bad," Trump declared, before noting: "They are not going to be wonderful people who go on to work for the local milk people."
4. Turnbull informs Trump about the Boston bombers.
After explaining to Trump where the refugees came from, the U.S. president asked for a guarantee that if there are any problems — before claiming "you know that is what they said about the Boston bombers. They said they were wonderful young men."
Turnbull replied that the Tsarnaev brothers "were Russians. They were not from any of these countries."
"They were from wherever they were," Trump responded.
5. Trump says "this is the most unpleasant call all day," and hangs up.
Trump continued to deride the refugee agreement, calling it a "disgusting deal" and claiming "I will be seen as a weak and ineffective leader in my first week by these people."
Then, after Turnbull said "you are going to stick with it," the U.S. president declared "I have had it. I have been making these calls all day and this is the most unpleasant call all day. Putin was a pleasant call. This is ridiculous."
As Turnbull thanked him for his "commitment," Trump said "It is an embarrassment to me, but at least I got you off the hook," and ended the call.
[image via screengrab]
—
Follow Aidan McLaughlin (@aidnmclaughlin) on Twitter
Have a tip we should know? tips@mediaite.com
Aidan McLaughlin - Editor in Chief