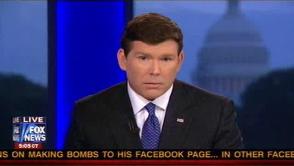 With the 2010 midterm election basically done, it's time to look to 2012!
Tonight, Fox News' Bret Baier begins reporting on a series called "12 in '12" that profiles a dozen potential 2012 GOP candidates. Only one of the 12 refused to be interviewed – Mitt Romney.
Real Clear Politics' Erin McPike spoke to Baier, and has the details:
Special Report with Bret Baier is launching a 12-day series on the topic called "12 in '12" that each day will feature a profile of one of 12 Republicans who may launch presidential bids for the 2012 race. Exclusive interviews with 11 of the 12 candidates are planned for the profiles, which begin Thursday evening.
Those candidates includes: Indiana Gov. Mitch Daniels, former Massachusetts Gov. Mitt Romney, Minnesota Gov. Tim Pawlenty, South Dakota Sen. John Thune, former Alaska Gov. Sarah Palin, former Arkansas Gov. Mike Huckabee, former House Speaker Newt Gingrich, Mississippi Gov. Haley Barbour, South Carolina Sen. Jim DeMint, Indiana Rep. Mike Pence, New Jersey Gov. Chris Christie and Louisiana Gov. Bobby Jindal.
McPike reports, "A thirteenth story is also planned with long-shots such as former Pennsylvania Sen. Rick Santorum, Texas Gov. Rick Perry, Texas Rep. Ron Paul, and others like Donald Trump."
So, every possible 2012 Republican nominee covered? Looks like it. But Romney wasn't willing to talk. "We've talked to them a number of times," said Baier of Romney's camp. "They've told me they are hesitant to do anything that has a 2012 connotation to it."
So the series will air with no interview – although his 11 best competitors in two years will get to begin to make their case to the Fox News audience. Well, three of those 12 get to all the time, since they're FNC contributors.
—–
» Follow Steve Krakauer on Twitter
Have a tip we should know? tips@mediaite.com