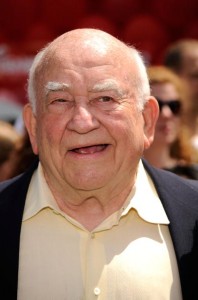 Did you know that Ed Asner, of The Mary Tyler Moore Show and Hollywood in general, is a 9/11 Truther? Adam Carolla didn't seem to when, on his podcast, Asner started to offer his views as to why the government was behind that Twin Towers attack. Here we go.
"No high-rise has ever gone down by fire," Asner explains. "Those buildings fell at the rate of gravity in ten seconds, flat." He served up some more supposed "facts" as to why the buildings had to have been brought down by domestically planted explosives rather than internationally hateful terrorists. Carolla tried to debunk the conspiracy theory by asking why the surreptitious government of Asner's mind, if it was so keen on instigating a war, didn't go ahead and plant WMD in Iraq. "Because it wasn't the same department of government," Asner replied, chuckling at Carolla's naiveté.
Asner continued:
My bottom line on all of this is that this country—which is the greatest, strongest country that ever existed in the world, in terms of power—supposedly had a defense that could not be penetrated all these years. But all of that was eradicated by nineteen Saudi Arabians, supposedly. Some of whom didn't even know how to fly.
It'll be interesting how viewers of CMT, the network on which Asner's new sitcom Regular Joe will air, starting January, will respond to his beliefs. Listen to Asner's performance, which includes a bonus conspiracy theory regarding Robert Kennedy, in the clip below (via Breitbart TV):
Have a tip we should know? tips@mediaite.com