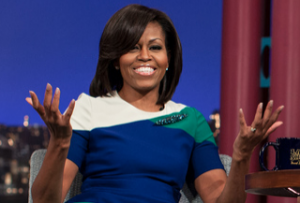 Today is Michelle Obama's 50th birthday, and to celebrate the occasion, ABC News posted a weird, BuzzFeed-y list of "50 Ways to Celebrate Michelle Obama's Birthday" that gets rather detailed about the ins and outs of the life of the First Lady in a blog post that is essentially her life story in list form.

Now, there are some nice, realistic ones in here that people could afford to do in their daily lives more often, including the following:
2. Eat your vegetables

4. Work out yours [sic] arms

9. Drink lots of water

14. Lend a hand at a homeless shelter or food pantry

26. Do jumping jacks

35. Thank a veteran
And, of course, the most important one of all: "13. Grab a burger at Five Guys." Everyone should at least once.
But some of them get just a wee bit too specific and seem to be things that, say, the average person would never be able to do in their lifetimes.
5. Make the cover of Vogue

18. Hang out with your friend, Oprah

19. Cook up a storm on "Good Morning America"

23. Roll your eyes at House Speaker John Boehner or the Danish Prime Minister

27. Challenge Desmond Tutu to a pushup contest

32. Hug, kiss, and fist bump the President of the United States

41. Travel the world on Air Force One

44. Give a speech at the Democratic National Convention

47. Host the most popular boy band in the world at your daughters' first party in their new home
These would all appear to be very specific to Mrs. Obama and not necessarily something you'd be able to do to celebrate her birthday. Then again, in theory you could appear on GMA, kiss President Obama, and take the stage at the DNC convention; you'd just end up arrested.
And then some of these basically just regurgitate facts from the First Lady's biography.
3. Move into a massive new house with your family and invite your mother to move in too

16. Watch Spike Lee's "Do The Right Thing" on your first date with your future husband

38. Make your husband stop smoking

45. Say "never say never" to botox.
But the ones that really stick out are these two.
20. Shop at Target

33. Shop at Target with sunglasses on
Hmm, you don't think there might be just a teeny, tiny, little reason you wouldn't want to shop at Target right now? You know, maybe like something to do with people's privacy at risk here? Oh, it's on the tip of my tongue…
Nah, it's probably nothing.
[h/t The Blaze]
[photo via screengrab]
— —
Follow Josh Feldman on Twitter: @feldmaniac
Have a tip we should know? tips@mediaite.com
Josh Feldman - Senior Editor