After Attack on Referee Goes Viral, Two Football Players Accuse Him of Racist Remarks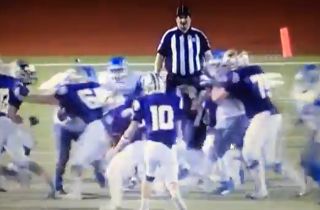 A video of a San Antonio football game has been circulating around the Internet after two players teamed up to tackle a referee while his back was turned. Robert Watts was watching a play unfold between John Jay and Marble Falls High School, when a defensive back blindsided at full force before another player tackled him while on the ground.
The two players accused of the hit said that the judge made racial slurs against them, but they have been suspended until a disciplinary hearing can be scheduled, and both are under police investigation. Pascual Gonzalez, a spokesman for the Northside Independent School District, said yesterday that Watts is currently under medical care, and wants to press charges.
"Those allegations are untrue," said Watt's attorney, Alan Goldberger. "It's unfortunate."
Superintendent Brian Woods, also spoke at the conference, saying the school will file a complaint about the racial slur allegation with the Texas Association of Sports Officials. Woods also clarified that an assistant football coach, who reportedly instructed the boys to retaliate due to a bad call in the game, was also placed on administrative leave.
"The first thing we want is that those two kids never play football again," Austin Football Officials Association secretary Wayne Elliott said.
"These types of actions against any game official at any level are inexcusable," said NFL Referees Association executive director Jim Quirk. "We fully support the suspensions of the players involved, along with a full and complete investigation by the Texas University Interscholastic League."
You can see the original video here:
[h/t Washington Post]
[image via screengrab]
Have a tip we should know? [email protected]