After Breitbart Cuts Ties With White Nationalist, Curt Schilling Invites Him Back to His Radio Show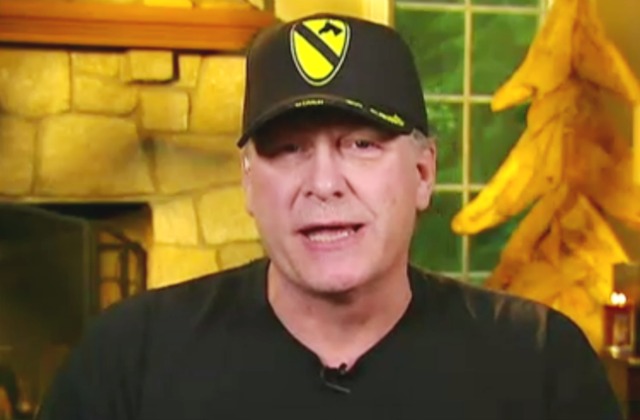 It seems like Breitbart just can't quit Paul Nehlen.
Days after the far-right media outlet distanced itself from the fringe Congressional candidate over his overt embrace of white nationalism, Breitbart radio host and former All-Star pitcher Curt Schilling publicly invited Nehlen back onto his program, Whatever It Takes with Curt Schilling.
@pnehlen let's have you on the show Wednesday, some things I think people want to hear and some questions I think you need to answer.

— Curt Schilling (@gehrig38) December 29, 2017
And Nehlen gladly agreed to come on.
Sounds great, Curt. Looking forward to it. https://t.co/PIrUed4sAR

— Paul Nehlen (@pnehlen) December 29, 2017
This booking comes on the heels of Breitbart senior editor-at-large Joel Pollak claiming that the site hadn't covered Nehlen in months and had barely been associated with him, despite Nehlen having written columns for Breitbart and the "platform for the alt-right" giving him a substantial amount of positive coverage in the past. It was also revealed that Nehlen had appeared on Schilling's program on December 18th, something Breitbart tried to memory hole by quietly deleting the segment from its SoundCloud page. And let us not forget that Nehlen appeared at a Roy Moore campaign rally with Breitbart chief Steve Bannon less than three weeks ago.
After Schilling's invite was accepted by Nehlen, the World Series champ turned conservative firebrand mixed it up with Twitter users who called him out for giving a known white supremacist a platform. It eventually led to Schilling not only seemingly coming to the defense of Nehlen and his views, but also providing cover to a white supremacy group, Identity Europa.
But what you read on his timeline and what you think it means, could it be mistaken? Or no, you're all perfect at reading people to be exactly the thing you are? Intolerant, hateful, violent and angry?

— Curt Schilling (@gehrig38) December 29, 2017
See this is why you're an idiot, and I'm not. You read and determine because people who've lied to you, you believe. I'll ask him directly, every single question I can, and listeners can come up with to determine what is true/bullshit

— Curt Schilling (@gehrig38) December 29, 2017
Right! How dare those racists bastards hand out food and money to help the homeless!!!! And how dare anyone publicly recognize that bastardly deed!

— Curt Schilling (@gehrig38) December 29, 2017
Schilling later lashed out at ThinkProgress' Judd Legum after Legum posted an article about Nehlen's upcoming appearance and Schilling's tweets coming to his soon-to-be guest's defense. Schilling called Legum a liar and asked him to prove he was defending Nehlen and Identity Europa, leading Legum to answer back:
Breitbart radio host continues to praise notorious white supremicist org as a homeless charity group.

His original tweet mocked the idea the group was racist https://t.co/2u91Do3P9q https://t.co/F17P3EbfVi

— Judd Legum (@JuddLegum) December 30, 2017
Yes, Nehlen's open embrace of white nationalism dates back a year.

His last appearance on your Breitbart show was ten days ago.

3 days ago Breitbart said it had cut all ties.

You invited Nehlen back on your show yesterday.https://t.co/ThbMlfYYGv https://t.co/NEkCeVYDE8

— Judd Legum (@JuddLegum) December 30, 2017
In the aftermath of Breitbart cutting ties with Nehlen, the site has published articles attacking those who have criticized their past relationship to the former House candidate, specifically CNN's Jake Tapper.
[image via screengrab]
—
Follow Justin Baragona on Twitter: @justinbaragona
Have a tip we should know? tips@mediaite.com