Twitter Mourns the Loss of Activist Erica Garner: 'We're Less Because of This Loss'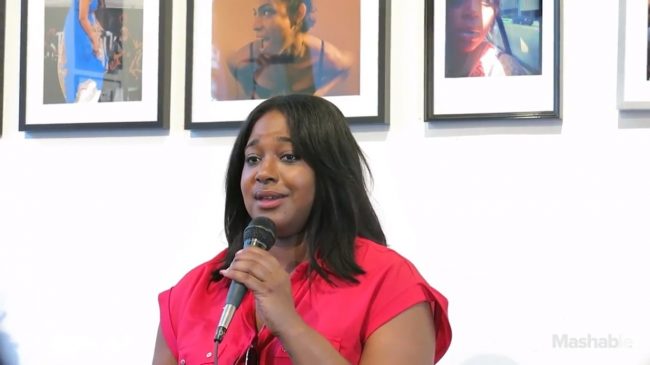 Last week, social justice activist Erica Garner suffered a heart attack that placed her in a coma. A few days later, the person running her verified Twitter account informed Garner's followers that a CT scan revealed that Garner had suffered significant brain damage due to a lack of oxygen while she was in cardiac arrest. It was reported later that doctors had declared Garner brain dead.
This morning, the sad news came in that Garner had passed away.
She passed away this morning. The reports are real. We didn't deserve her.

— officialERICA GARNER (@es_snipes) December 30, 2017
The 27-year-old mother of two had become an outspoken critic against police brutality and an important voice for racial justice following her father's death at the hands of New Tork police in 2014. Eric Garner's plea to officers as he was being choked to death — "I can't breath" — became a rallying cry for the Black Lives Movement.
Following news of her passing, a number of prominent activists, journalists and media fiugures took to Twitter to offer their condolences:
Our dear sister Erica Garner has just passed away.

When you were her friend, you her friend through all adversity. She was a fierce protector of her friends and family. A truth teller. As genuine and authentic of a soul you'll ever encounter.

We're less because of this loss.

— Shaun King (@ShaunKing) December 30, 2017
Erica Garner has died. RIP https://t.co/ILCfxmU3dH

— Jake Tapper (@jaketapper) December 30, 2017
My heart is heavy. I hope Erica Garner's family and friends find comfort in knowing she was a fighter and a passionate soul. Praying for her children.

— Symone D. Sanders (@SymoneDSanders) December 30, 2017
Rest in Power, Erica Garner. You deserved better from this world. https://t.co/MdLmtRif4o

— April (@ReignOfApril) December 30, 2017
May Erica Garner rest in peace–and may we neither rest nor have peace until we end police brutality . Prayers for her family. @NAACP https://t.co/zvEoUxZie1

— Cornell Wm. Brooks (@CornellWBrooks) December 30, 2017
A young, black woman who loved her father. And watched him die at the hands of police who he alerted that he was dying. Not even 30 yet and did not back away from the freedom struggle. She carried a burden. I pray that she's resting now. Peace, Erica Garner. pic.twitter.com/IVo2hADVyv

— Be A King (@BerniceKing) December 30, 2017
Erica Garner persevered through heartbreak to try to remedy the wrongs that played a part in Eric Garner's death. In every interaction I had with her she was trying to improve a world that wronged her and her family. Her untimely death is a tragedy.

May she Rest In Peace.

— Conor Friedersdorf (@conor64) December 30, 2017
Rest In Peace Erica Garner. You fought for justice for your Dad and others. Your voice and work made a difference. Aluta Continua!

— Judith Browne Dianis (@jbrownedianis) December 30, 2017
It saddens me to hear the tragic news about Erica Garner. She fought tirelessly against systemic oppression ever since her father's murder and was a bold, courageous voice for justice and equality. My heart is with her friends and family during this tough time.

— Ro Khanna (@RoKhanna) December 30, 2017
RIP Erica Garner ???. Sending peace and love to her entire family. In May the rest of us be infected with her love, spirit and pursuit of justice. We must honor Erica thru our deeds.

— ChuckModi (@ChuckModi1) December 30, 2017
Erica Garner passed this morning. She's with her father Eric now. I painted this in 2015 on the anniversary of Eric's murder by NYPD. You made a huge difference for this country's fight against racial injustice @es_snipes
Rest In Power.
We Will Keep Your Fight Alive. pic.twitter.com/UHQEfiqT3l

— Arn Menconi (@ArnMenconi) December 30, 2017
[image via screengrab]
—
Follow Justin Baragona on Twitter: @justinbaragona
Have a tip we should know? tips@mediaite.com