Al Gore To Charlie Rose: People Hostile To Liberalism Because Of Fox News, Talk Radio 'Propaganda'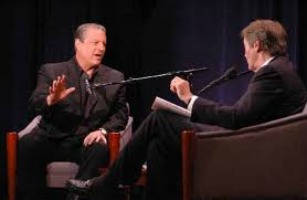 During an appearance with CBS anchor and host Charlie Rose at the 92nd Street Y in New York City on January 29, former Vice President Al Gore lambasted Fox News Channel and "right-wing talk radio" for broadcasting what he called "propaganda." He said that conservative media has made it difficult for progressive ideals to catch on with the general public.

RELATED: Andrea Mitchell Asks Al Gore How A Global Warming 'Prophet' Could Sell His Network To Oil Producing Nation
When asked why he thought President Barack Obama has been too conservative in his first term in pursuing progressive ideas, Gore said he thought the president was simply being "cautious."
"And why is that?" Rose asked. "That you're saying it's a very hostile environment for progressive ideas because of the importance of money in corporations or–"
"–And Fox News and the right-wing talk radio," Gore replied to the laughs of the crowd. "In Tennessee there's an old saying if you see a turtle on a fence post you can be pretty sure it didn't get there by itself. And the fact that we have 24/7 propaganda masquerading as news, it does have an impact."
He added that progressivism cannot compete with "the money situation" that is funding right wing media outlets and messaging firms. He cited a case in North Carolina where a "right-winger" used his funds to "take over the government" of the Tar Heel state.
When Rose countered that well-heeled progressives fund liberal causes, Gore cut him off and said that he was making a "false equivalence." The crowd burst into applause as Gore added that progressive millionaires like George Soros should have more influence in American politics than they presently enjoy.
Watch the clip below:
h/t Fox Nation
> >Follow Noah Rothman (@NoahCRothman) on Twitter
Have a tip we should know? tips@mediaite.com