WaPo Fact-Checker Demands Multiple Skeet-Shooting Photos To Clear President Obama Of Lying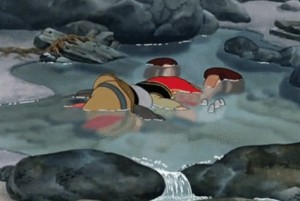 The impulse of ostensibly objective media to assume that President Obama is a liar until proven innocent continues, as Washington Post "fact-checker" Glenn Kessler has now published a one-sided "fact check" of the President's straightforward statement that "yes," he has "shot a gun," and that he and his guests "do skeet-shooting all the time" at Camp David. With absolutely no evidence to the contrary, and while ignoring evidence that supports what the President said, Kessler ruled the claim "verdict pending," but added "if the White House is not forthcoming with additional evidence, then the claim becomes increasingly doubtful."
In a recent interview, President Obama told New Republic editors Chris Hughes and Franklin Foer, when asked, if he had ever shot a gun,  "Yes, in fact, up at Camp David, we do skeet shooting all the time."
Foer followed up by asking, "The whole family?"
The President replied, "Not the girls, but oftentimes guests of mine go up there. And I have a profound respect for the traditions of hunting that trace back in this country for generations. And I think those who dismiss that out of hand make a big mistake."
On Monday, CNN's Jessica Yellin asked White House Press Secretary Jay Carney about the exchange. "How often does the President go skeet shooting?" Yellin inquired, "And are there photographs of him doing so?"
Carney replied, "I would refer you simply to his comments. I don't know how often. He does go to Camp David with some regularity, but I'm not sure how often he's done that."
"Is there a photograph of him doing it?" Yellin pressed.
"There may be," Carney replied, "but I haven't seen it."
"Why haven't we heard about it before?" Yellin asked.
"Because when he goes to Camp David, he goes to spend time with his family and friends and relax, not to produce photographs." Carney replied.
As I've said before, there is a difference between ordinary journalistic skepticism and open speculation that the President of the United States is lying, and several ostensibly "objective" journalists have now crossed the latter threshold, without any reasonable justification for doing so. Add The Washington Post's Glenn Kessler to that category. Kessler's probable cause for doubting the President's statement? The fact that a "number of readers have raised questions about the president's statement," and his own assertion that "the White House has been oddly silent about the matter," as well as the fact that "on Wednesday, Carney tersely said he had no response to a challenge from Rep. Marsha Blackburn (R-Tenn.) for a skeet shooting contest with the president."
So, to be clear, Glenn Kessler's entire reason for "fact-checking" a factually uncontroversial statement is "a number of" his wingnut readers, and the fact that the President won't step and fetch for a grandstanding GOP back-bencher, because the White House has been anything but "silent" on the matter. The President confirmed the activity, and Jay Carney explained, quite reasonably, why there may not be a photo, because "when he goes to Camp David, he goes to spend time with his family and friends and relax, not to produce photographs." Here's how Kessler examined Carney's statement:
"Of course, this did not stop the White House from releasing these photographs in 2011."
Kessler presents two photos from the White House Flickr stream, only one of which is actually from Camp David. In fact, of all the photos the White House has put out, only two others feature President Obama with his family and friends at Camp David. An objective reporter would rate Jay Carney's statement "100% True, Pants Completely Fireproof, Wooden Puppet Nose Normal Size."
Instead, Kessler references a Politico report that called the President "an infrequent visitor" to Camp David, and notes the report contained "no mention of skeet-shooting." Kessler fails to note, however, that the President has visited the presidential retreat about six times a year (23 times in his first term), plenty of opportunity to shoot, and is never accompanied by the press, eliminating the possibility of photographs, or mentions of skeet-shooting, from reporters.
Kessler also uncovers this not-smoking non-gun: "We also could not find evidence that Obama ever tried skeet shooting before he became president."
Great work, that is, since that's what the President said in his interview.
Kessler also asserts that "Generally, a politician who has handled firearms will advertise that fact to gun owners," which would make sense for most politicians, but the fact that President Obama never did that during two presidential elections, even though he had a particular vulnerability with gun owners due to his "bitter clinging" comments, would indicate, to an objective reporter, that this specific politician is acutely averse to such pandering.
Kessler concludes by demanding a photograph to "put this matter to rest," but then ups the ante, adding that "because Obama said he does skeet shooting 'all the time,' perhaps our standard of proof should be higher–such as several photographs."
He generously allows that "in cases of self-aggrandizement, we are willing to be a bit more patient. Obviously, if the White House is not forthcoming with additional evidence, then the claim becomes increasingly doubtful."
Got that? Unless the White House produces photographs that may not exist, for perfectly good reason, Glenn Kessler concludes that President Obama is a liar. There are also no photographs of Glenn Kessler checking any facts, but surely, those are on the way.
Set aside the absurdity of that standard. Granted, the President's statement was an attention-grabber, not because it seemed as impossible as Kessler's readers find it, but because it was a new revelation, and it had a tangential relationship to a hot news topic. People are entitled to their opinions, and reporters are entitled to ask questions, even in passive/aggressive dickish style.
The point is that this is not objective journalism, and it is not "fact-checking," because all of the checkable facts support President Obama. It is pandering, the kind of pandering that all of these "fact-checkers" do, handing out ratings as if they were doling out treats to a kindergarten class, making sure no one has a reason to kick and scream.
But Kessler and Erin Burnett, and to some degree, Jessica Yellin, ought to examine the motives behind the audience they're pandering to. The premise of this entire "controversy" is that the President lied in order to ingratiate himself to gun owners, with Kessler going so far as to call it "self-aggrandizement" (a curious characterization of a mundane claim) but President Obama didn't just volunteer this information. He was asked about it, he answered, and in doing so, tried to offer some relevant commentary.
However, Vice President Joe Biden also recently revealed an affinity for skeet-shooting, and he did volunteer that fact, unprompted, to an audience that would especially appreciate that. Yet while there are also no photographs of Joe Biden skeet-shooting, no one, not Glenn Kessler, Erin Burnett, or anyone else, is asking to see one.
Have a tip we should know? tips@mediaite.com