Al-Qaeda's Latest Failed Terror Attack Involved Assassinating Irish Pop Duo Jedward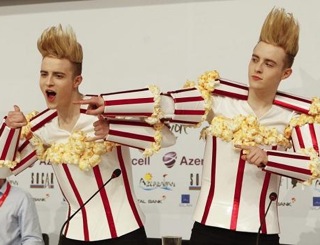 Just because the United States and its allies have been at war with al-Qaeda and Islamic terrorists around the world for more than a decade doesn't mean they have been fully eradicated, nor does it mean that failed plots don't surface all the time. The latest failure from the terror group, which seems to barely be scotch-taped together at this point, comes from Baku, Azerbaijan, where authorities foiled a plot to bomb Europe's biggest pop music festival and take out, among many others, overcaffeinated pop music hair confection Jedward.

RELATED: Greg Gutfeld: Ireland Making Obama Listen To 'Jedward' Concert Is 'An Act Of War'

Jedward are a pop duo consisting of twins John and Edward Grimes. They don't sing very well, but became the darlings of the Irish nation by annoying Simon Cowell with their existence, thus flooding the show X Factor with votes for themselves. This somehow parlayed into a wildly successful music career, reality show appearance, performance in two back-to-back Eurovision competitions and, even more shockingly, a performance before President Barack Obama. Here they are a week ago performing at Eurovision with a functioning fountain, apparently dressed in some sort of Hylian water outfits.
At the time in which the Irish government thought it prudent to make President Obama watch these two do that whole singing thing, the only major coverage on American TV the two received was on Fox News' Red Eye (for the same sort of unclear reasons that most bizarre news stories end up on the table at Red Eye), and panelist Nick Gillespie joked that it would be "people like Jedward who will liberate the Arab World"– apparently, someone at al-Qaeda HQ took this seriously. From the Belfast Telegraph:
Forty people linked to Al-Qaeda have been arrested over a plot to kill Jedward at the Eurovision song contest.

Security services in host city Azerbaijan also recovered a major arms cache in the operation in which a number of key personnel and property were also targets, including Azeri President Ilham Aliyeve, the £100million Baku Crystal Hal and other major hotels which housed acts and officials connected to the song contest.

Azerbaijan has been targeted in a number of terror plots in recent months and Eurovision bosses confirmed they had spent hours devising a detailed emergency strategy in the event of an attack.
According to the Telegraph, the police stated that the group "set itself the aim of mounting terror attacks, creating a mood of powerlessness and lawlessness, sowing ethnic and religious enmity and damaging Azerbaijan's international image."
British and Irish news sources are quick to note— right below the blaring headline, of course– that the plot was not exclusively meant to kill Jedward, but to annihilate the entire population of Baku's Crystal Hall on the night of the Eurovision Song Contest, taking out Azeri President Ilham Aliyeve along with every pop act submitted and making it into the finals of the song contest, as well as thousands of spectators. But it appears it was just that irresistible to anyone who knows what Jedward is to note that they were, in a roundabout but very physically direct way, in the line of fire of a bona fide al-Qaeda terrorist attack. And how many bizarrely-coiffed reality show rejects with President Obama among their captive audience can say that?
For old times' sake, because there aren't many posts where this great clip is relevant, the Red Eye panel talking about Jedward's encounter with President Obama in 2011 below:


—–
» Follow Frances Martel on Twitter
Have a tip we should know? [email protected]