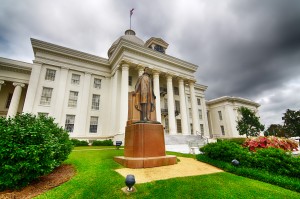 Less than 24 hours after a flag company in Huntsville, Alabama said it would keep selling the much-debated Confederate flag, Gov. Robert Bentley ordered it be removed from the state Capitol grounds.
According to AL.com, two workers exited the Capitol building at 8:20 a.m. on Wednesday morning and removed the flag from the nearby Confederate memorial.
Not too long after that, Bentley himself departed the grounds for another meeting. When asked whether or not he'd ordered the flag to be taken down, the governor said yes. He then explained his reasoning:
Partially this is about [the church shootings in Charleston]. This is the right thing to do. We are facing some major issues in this state regarding the budget and other matters that we need to deal with. This had the potential to become a major distraction as we go forward. I have taxes to raise, we have work to do. And it was my decision that the flag needed to come down.
Bentley quickly noted that he and his staff had checked the law to determine whether or not any legal impediments barred him from simply ordering that the flag be taken down. None did, so he gave the order — not just for the lone Confederate flag at the memorial, but as reporters later witnessed, for the rest of the flags on display.
Wait, so the governor of a southern state just up and removed the Confederate flag from the Capitol grounds? Just like that? And to make matters worse, he's currently in the process of raising taxes? He's affiliated with the GOP, but methinks the taxes may be his undoing.
[h/t AL.com]
[Image via Shutterstock.com]
— —
>> Follow Andrew Husband (@AndrewHusband) on Twitter
Have a tip we should know? tips@mediaite.com