Alabama High School Coach Suspended Following Rant About 'Fat Butt Michelle Obama'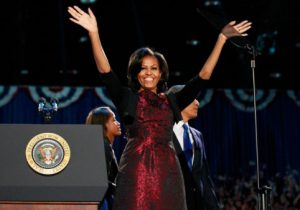 Bob Grisham, head football coach and psychology teacher at Lauderdale County High School in Alabama, has been suspended for 10 days after comments he made about First Lady Michelle Obama and not liking "queers." Audio of the teacher's remarks were taped by a student.
Speaking about "600-calorie lunches," Grisham is heard ranting about "fat butt Michelle Obama."
"Look at her. She looks like she weighs 185 or 190. She's overweight," Grisham said, while another voice chimed in, "Big fat gorilla."
After lamenting the country is going in the wrong direction, Grisham went on to talk about gays. "I don't believe in queers, I don't like queers," he said."I don't hate them as a person but what they do is wrong, it's an abomination against God. I don't like being around queers."
Later, Grisham said he misspoke. But he did have supporters, including school board member Dan Beavers, who felt the suspension should have been shorter, as well as Brad Tipper, who said the situation was "blown out of proportion."
"Bob Grisham is a good Christian man," he said. "If we had more teachers like him, we wouldn't have a lot of the problems that exist today."
"I don't agree with kids getting to take cellphones in class," Ricky Hamm said, also agreeing that the punishment was too harsh. "This should never have happened."
In addition to suspension, Grisham will no longer be allowed to teach his psychology class for the rest of the year — and will be required to meet for sensitivity training and monthly meetings with the school system's personnel director.
Audio of Grisham's remarks below:

(h/t Times Daily; NYMag)
Have a tip we should know? tips@mediaite.com