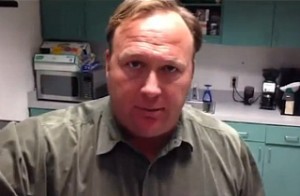 Earlier this month, talk show host Alex Jones — the radio-based conspiracy theorist whose program is powerful enough to scare Fox News — backed out of an appearance on This Week to discuss Operation Jade Helm. That's when things got interesting, because Jones launched into a tirade about the ABC News program's "dirty tricks" — despite him being the one who backed out. But that's not where Jones's media shenanigans end.
Boston Globe reporter Matt Viser tried to interview the otherwise reclusive radio host for a story on the divided national response to the Jade Helm 15 military exercise in Texas. Viser never got his interview, but the events that unfolded during his back-and-forths with Jones and his people were weird enough to garner their own article.
Viser tried to contact the show before his visit to Austin, Texas, where Jones is based. These inquiries went unanswered, so he made his way to Texas and kept at it — assuming that the program would eventually respond.
Then, just when the Globe reporter was ready to call it quits and fly home, Jones's news director Rob Drew responded positively — albeit with odd terms:
"You can interview him during the show," Dew wrote in an e-mail. "Interested?"
Viser really didn't want to go onto the show to be counter-interviewed by Jones, but he saw the offer as his only opportunity to actually meet the man:
Eager to see Jones, and his studio, in person, I initially agreed to come on the show. After checking with editors, we decided that would not be such a good idea. It places us at the center of the story and also airs an interview with Jones live on the radio well before our own article would be ready for publication. The trade-off didn't seem worth it.

So within 15 minutes, I messaged Dew back, saying I wouldn't appear live but still wanted to do the phone interview. He agreed, saying he would send me Jones' cell phone number after the show.
Despite the apparent flip-flopping, it appeared that Viser, Dew and Jones were all on the same page. After the talk show host finished his broadcast, he'd give the Globe reporter a call. But that's not what happened.
Instead, Jones announced on-air that Viser would be in the studio later in the show, adding "We are not going to let you play your sneaky underhanded tricks anymore you back-biting crew of scallywags." A few minutes later, Dew announced that Viser had pulled out. The news director claimed Viser was backing out at that very moment, after Jones had announced his being on the show. This gave the host plenty of fodder to conclude with:
"We are going to shut down if we keep responding to all these reporters," Jones said. "…That's good. We're done. I don't have any time to talk to him now!"

"They want to have standup fight, we'll have it!" he added. "But we're not going to play patty-cake with these reporters."
Like ABC News before him, Viser was counter-rebuffed by Jones, whose presence on the air gave him the opportunity and the means to say what he wanted about the rescheduled (then cancelled) interview. The Globe reporter tried to get back in touch with the show, but they never responded.
[h/t the Boston Globe]
[Image via screengrab]
— —
>> Follow Andrew Husband (@AndrewHusband) on Twitter
Have a tip we should know? tips@mediaite.com