Alt-Right Leaders Threaten to Blacklist Any Journalists Who Don't Condemn the Twitter Ban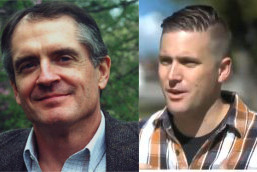 Alt-right leaders denounced Twitter's decision to ban several of their accounts, and put journalists on notice that if they didn't do likewise, they would be denied access to any future interviews or events.
In a statement issued jointly by Richard Spencer and Jared Taylor, two luminaries of the white nationalist movement, and published by Buzzfeed, they said that Twitter's ban was an assault on "free expression" and was "politically motivated."
"Several of the banned accounts were in no way guilty of trolling or 'harassment,'" they said.
The statement concludes:
The Alt-Right has risen to national prominence, and the views of its members and representatives are clearly of interest to the public. We therefore call on all media outlets with a national reach to condemn Twitter's censorship of these accounts. If they fail to do so, we must assume that they support the suppression of certain political views, and we will not grant them interviews or access to our events.

We encourage all others in the Alt-Right to do likewise.
statement from Jared Taylor and Richard Spencer on alt-right Twitter purge, just sent to me by Taylor: pic.twitter.com/ZmYXEGceuN

— Rosie Gray (@RosieGray) November 16, 2016
Speaking to The Daily Caller, Spencer said the purge was an example of "corporate Stalinism" and accused Twitter of "trying to airbrush the Alt-Right out of existence."
Spencer is the president of the National Policy Institute, a Virginia-based white nationalist think tank founded in 2005. He supports the creation of an all-white state in North America. He told the BBC in an interview in September, "Donald Trump came along and I feel like my movement and ideology, we can be a kind of vanguard for a presidential candidate."
Taylor is founder and editor of American Renaissance, a monthly publication that publishes pseudoscience about white racial exceptionalism. In an episode of the This Alt-Right Life podcast in May, he predicted that a Trump presidency would attract like minded supporters of "white advocacy" who would populate his administration "in ways that cannot but be extremely useful both to Trump and to us."
—
[images: Wikicommons, BBC screengrab]
Sam Reisman (@thericeman) is a staff editor at Mediaite.
Have a tip we should know? tips@mediaite.com