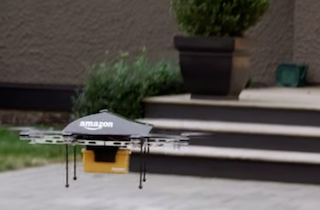 On Sunday the FAA proposed new regulations for the use of commercial drones, and those rules quickly found their first rebel: the online retail behemoth Amazon.
Some of you may recall all the way back to December 2013, when Amazon founder Jeff Bezos unveiled his plan for commercial drone delivery during a suspiciously credulous segment of 60 Minutes. Immediate questions arose about whether Prime Air would be legal.
Last summer, Amazon formally requested permission from the FAA for large-scale testing delivery drones; the FAA has issued occasional waivers allowing drone flights for news filming, agricultural surveys, and the like.
But under the FAA's new proposed rules Amazon's delivery service would be kaput. The rules would limit the flight of drones to 500 feet, require that they be kept in sight of the drone operator, and forbid the carrying of third-party packages, rendering drone delivery all but impossible.
"We have tried to be flexible in writing these rules," said FAA Administrator Michael Huerta. "We want to maintain today's outstanding level of aviation safety without placing an undue regulatory burden on an emerging industry."
Amazon was not mollified by that. "The FAA needs to begin and expeditiously complete the formal process to address the needs of our business, and ultimately our customers," an Amazon spokesperson told the Guardian. "We are committed to realizing our vision for Prime Air and are prepared to deploy where we have the regulatory support we need."
Critics of the proposed rules say the FAA, which has been working on these for two years, did not fully take into account advances in navigation software. Alas, the crashing of a drone on the White House lawn last month probably did little to help their cause.
Rumors that Amazon threatened to make searches for Dream from My Father return Dinesh D'Souza books went unconfirmed at press time.
Watch Amazon's drone delivery demonstration below, via YouTube:
[Image via screengrab]
——
>> Follow Evan McMurry (@evanmcmurry) on Twitter
Have a tip we should know? tips@mediaite.com