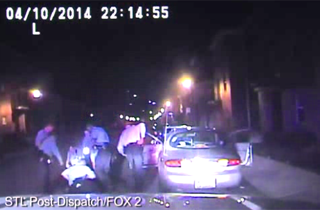 A group of St. Louis Police officers are under investigation after one of them turned off a police camera during a traffic stop, after they were videotaped repeatedly kicking the suspect.
The St. Louis Post-Dispatch reports that the recorded incident, which happened last year before the shooting of Michael Brown, shows 18-year-old Cortez Bufford, stopped by police looking for a suspect in a shooting. After police found a bullet in his pocket (though he was unconnected to the shooting,) Bufford was pulled from a car, kicked repeatedly once they saw him reach for a gun in his pocket, and Tasered before a policewoman turns the camera off:
Bufford hit and kicked several officers, the report says, before another officer "administered a foot strike" to the leg, and Bufford was jolted with a Taser twice. At least seven officers participated.

He was then handcuffed, and Binz recovered a Kel-Tec 9mm semi-automatic pistol with four rounds in the magazine and one in the chamber. It has a capacity of 11.

At 10:15.38 p.m. on the recording, the officers appear to be turning Bufford over without noticeable resistance. Most of the officers are standing.

At 10:16.06 p.m., Officer Kelli Swinton approaches Burkemper's patrol car. There is the sound of an opening car door, and she loudly declares: "Hold up. Hold up, y'all. Hold up. Hold up, everybody, hold up. We're red right now, so if you guys are worried about cameras, just wait."

The audio cuts out, and the video ends eight seconds later.
The video — along with Swinton's call to turn off the camera — got the charges against Bufford dropped. White Bufford's lawyer says that the video footage contradicts the police report, the city circuit attorney countered, saying that "the action of turning off the dash cam video diminished the evidentiary merits of the case."
As it stands, the current rules for St. Louis police cameras is as such:
Police department "special orders" regarding dashboard cameras say that "traffic and any type of investigative stops" and "vehicle pursuits," among other things must be "recorded in their entirety." The camera should be stopped "once the assignment or the reason for the initiation of recording is completed."
Watch the video below via the St. Louis Post-Dispatch:

[St. Louis Post-Dispatch]
[Image via screenshot]
—
>> Follow Tina Nguyen (@Tina_Nguyen) on Twitter
Have a tip we should know? tips@mediaite.com