In Death and Doom of Its Own, the Media Becomes Even More Infatuated with Itself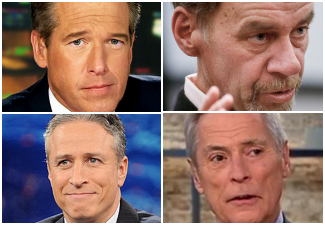 There is an old saying that "all news is local." The point, of course, being that most people only really care about news as it impacts them personally. Often snidely used by media executives referring to the parochial viewing or reading habits of the public-at-large like weather, increased subway or stamp costs, a local crime or an international story but only as it affects a local resident. This sad and momentous past week for the media, however, serves as a reminder that the somewhat pejorative phrase applies to those of us in media as much, if not more, than anyone.
The sudden deaths of celebrated journalists David Carr and Bob Simon, the remarkable fall from grace of Brian Williams and even the unexpected announcement that Jon Stewart will no longer continue hosting The Daily Show, together received coverage worthy of a presidential election or major disaster at home. Why? Because it's our local news. From countless eulogies and remembrances to hundreds of hours of analysis, it was the media's week to focus on its own shock and grief.
There is little doubt that the passing of Carr and Simon hit particularly hard to those who knew them not because they were news celebrities or household names, but because they were both so well regarded and revered in our world. It was that admiration that led so many to share heartfelt anecdotes, sentiments and memories of these journalistic powerhouses. But therein lies the issue, it is our world and the coverage often seemed to be almost cathartic for the reporters and media folks who wanted to publicly describe their personal grief, shock, appreciation and interactions with these men. But is that really what the public wants or deserves?
David Carr is probably the most striking example. A brilliant writer with a fascinating back story who happened to write about media. He touched, in one way or another, a disproportionate number of us in the media world but a familiar face or name to the pubic, he was not. Media leader? Yes. Journalistic standard bearer? For sure. Tutor to many now in influential media positions? Absolutely, but only impacting those of us in a small, insular world. Yet the amount of online and print coverage of Carr's death has been staggering. And according to TV monitoring service TVEyes, Carr's death was even covered widely on television with well over 2000 references to his death on the three networks and their local newscasts (CBS by far the most) and over 50 on the three cable networks (CNN's Brian Stelter who knew Carr well, has been particularly prolific on Carr's passing on Twitter and on TV). If Carr had been a pioneering finance writer or art critic would he have received anywhere near this amount of mainstream media coverage? Of course not.
I didn't know David well but it sure seems that this might also be precisely the sort of impolitic but accurate observation he would make — except, of course, he would have done so far more eloquently.
Bob Simon was better known to the public and without minimizing his accomplishments in any way, still hardly someone familiar to most outside of media. Not only was he a highly respected correspondent at one of the most storied programs on television, but he was also taken hostage for 40 days during the Iraq war. His death undoubtedly newsworthy, but almost 11,000 references on the three networks, local and national newscasts (not surprisingly most on CBS), according to TV Eyes, and another 150 on cable news? Evaluating how much attention a death should garner is a tricky business fraught with rhetorical minefields but the 60 Minutes brand is linked by most to other far better known names on the show. One might not have known that from the amount of coverage Bob's death received.
Here is a personal illustration: The same night David Carr died, former SEC commissioner Harvey Goldschmid, who helped force major companies to become more accountable to ordinary shareholders, also passed. He basically wrote the law that now prohibits corporations from leaking information to select clients or partners, was the SEC General Counsel, then an SEC Commissioner and a longtime top Columbia University law professor. I was a law student when Professor Goldschmid was teaching at Columbia and while I did not know him well, it led me to follow his career, accomplishments, and admire his battle against big corporations' backroom sweetheart deals.
I recognize how insensitive this sort of comparison may seem, but his death certainly seems as newsworthy to me as that of David Carr. Former SEC Chairman Arthur Levitt was quoted in the Wall Street Journal (one of the few publications that covered his passing) saying, "He will go down in history as one of the giants of the SEC." Yet this "giant's" death received zero references on the three news or cable news networks. Sure, other factors are at play like the stories behind the individuals, age, cause of death, etc., but this disparity in the amount of coverage can't possibly be justified based on the level of public interest nor their comparative achievements.
If Goldschmid doesn't seem like a persuasive enough example, how about the fact that even the death last month of Edward Brooke, the first elected black U.S. Senator, received a fraction of the coverage that Carr or Simon's deaths received? They were simply more important or relevant, to those making the decisions about what/who to write about, or cover on television news.
Then how does one explain the comparative dearth of coverage of another TV news correspondent who passed away last week? Only slightly less well known to the public than Simon, long time NBC News foreign correspondent Ned Colt died at age 58 (as did Carr) after 27 years at the network. Ned, like Bob Simon, was well respected for his reporting around the globe and was also kidnapped, albeit more briefly, during the Iraq war. For the past few years he even put his mouth where the money wasn't and worked for the International Rescue Committee and the United Nations office dedicated to refugees. So why was just about the only attention Ned's death received on NBC and its affiliates (131 references plus 5 on MSNBC)? Yes, Bob was a bit more "famous" but maybe more significant the movers and shakers in the heart of New York City — AKA media central — probably knew Bob personally while Ned was rarely here at home. In my 13 years at NBC News I don't think I ever met Ned. Not once.
All news is local.
Brian Williams and Jon Stewart are different in that both are legitimate celebrities both in and out of the media world and therefore clearly newsworthy (and obviously because their news simply related to professional matters, not death). Brian's self-destruction so monumental, rapid and striking that it was undoubtedly worthy of substantial coverage. But I too fell into this media myopia trap. After appearing on CNN last week breathlessly stunned at Brian's downfall, a friend — not in media — wisely suggested I "take it down a notch" since "the rest of the country" just isn't as invested or impacted by this as personally as was I. Were many fascinated by the story? Absolutely, but maybe not quite as obsessed as those of us who knew, respected, covered or worked with Brian.
Finally, despite Jon Stewart's constant attempt to brand his political program as nothing more than a comedy hour, he created a must-see show for the news media elite. While his ratings aren't monumental, his political influence enormous — a show beloved by significant numbers of media leaders (much to the consternation of some conservatives). It seems he could say what many in media were thinking or wished they could say about our business, the stories we cover, and how they are covered. So while his decision to step down after 16 years of hosting his Comedy Central show certainly justified significant coverage, there is little question that the amount was disproportionate to the level of interest from the broader public. Even Stewart himself mocked it, asking: "Did I Die?"
To be fair, this media self-obsession is what helped spawn this site, Mediaite. Highlighting the most outrageous, amazing and controversial media commentary began as the ultimate exercise in navel gazing. But what allowed us to expand well beyond that was appreciating that inside-the-industry stories are of interest to a limited audience.
Us media types often take issue with political figures, business leaders and even entertainment titans who view the world through a narrow, self-centered prism. Yet who is there to call us out when we are guilty of the same crime? David Carr was, but then again, he wouldn't have let the story become about him.
[Images via screengrabs]
Have a tip we should know? tips@mediaite.com