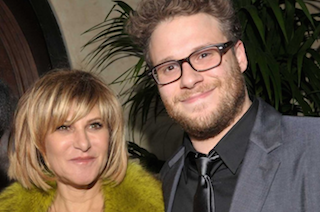 By writing and directing The Interview, which prompted the Sony Pictures hack, Seth Rogen may be indirectly responsible for Amy Pascal losing her job as studio co-chair. Now, according to a new report from The Hollywood Reporter, the comedian continues to haunt her life.
As part of her exit package from Sony Pictures' top job, Pascal will run a new production venture within the company. And the office Sony has chosen to give her just happens to have been previously occupied by Rogen and his writing partner Evan Goldberg. But THR's sources say that before she moves in, the suite is being repainted, partly to get rid of a pervasive marijuana smell left behind.
While some are "downplaying" the issue, saying Pascal wanted to redecorate anyway, one source said "the smell is so bad that it has seeped into the flooring." Another claimed the odor from the first-floor offices could be smelled two floors up.
"It appears that the problem will require an industrial-strength solution rather than a bottle of Febreze, and Pascal wants it fixed properly, sources say," THR's Tatiana Siegel wrote. "After all, she has a four-year deal — said to be worth between $30 million and $40 million — and will be spending a great deal of time in the space."
Sony has declined to comment, but Rogen has outright denied the claims, posting this message on Instagram earlier today:
[Photo via BI]
— —
>> Follow Matt Wilstein (@TheMattWilstein) on Twitter
Have a tip we should know? tips@mediaite.com