Andrew Sullivan: Obama's 'Lazy,' 'Feckless' Debate Was 'Dare Not To Vote For Him'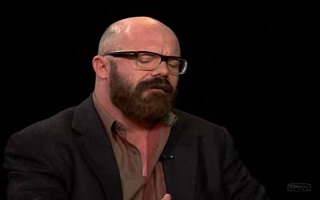 The Daily Beast columnist Andrew Sullivan's column following President Barack Obama's performance in the first presidential debate became a cultural touchstone for many who thought that the president had  turned in a poor performance that would negatively impact his electoral prospects. Others mocked what they considered Sullivan's overreaction. They said that Obama's admittedly lackluster performance alone was not enough to reset the trajectory of the presidential race, which had been Obama's to lose since the conventions. Nearly two weeks after that first debate, however, it is clear that the debate did change the dynamics of the campaign dramatically. This Sunday, Sullivan took to his blog to express just how much trouble the president has put himself in and how few chances he has to reverse what Sullivan believes may now be a course towards a stunning defeat on November 6.
RELATED: Andrew Sullivan Laments Obama's Self-Destruction: Did He 'Just Throw The Entire Election Away?'
"This is not a bounce," Sullivan writes in his Sunday post on The Daily Beast of Mitt Romney's polls. "It turns out it wasn't the economy (it's been perking up lately) that's become the main challenge for Obama. Nor the Electoral College. Nor a motivated, radical GOP base. It turns out that the main challenge for Obama's re-election in the final stretch is Obama himself."
He takes direct aim at his critics, who found Sullivan's initial reaction to Obama's performance hyperbolic. "[J]ust look at that graph above (with heightened sensitivity) of the campaign poll of polls since February and tell me I was wrong."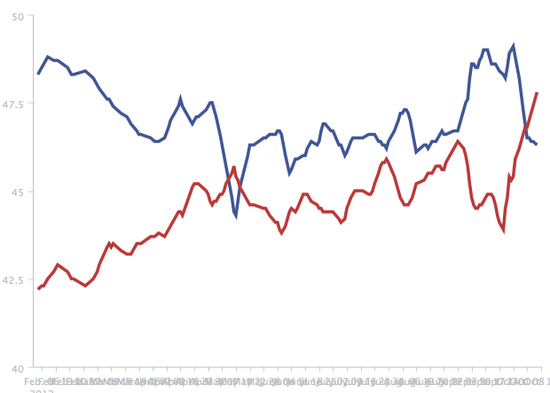 "As an Obama supporter, I remain committed, if deeply demoralized," Sullivan writes. "To be given a gift like the Romney 47 percent video is a rare event in national politics. To get it in the fall of an election should have made an Obama victory all but assured."
Nevertheless, Sullivan says that the president's debate performance squandered those advantages.
But Obama threw it all back in his supporters' faces, reacting to their enthusiasm and record donations with a performance so execrable, so lazy, so feckless, and so vain it was almost a dare not to vote for him.
"What he has to do now is so nail these next two debates, so obliterate Romney in both, that he can claw his way back to victory," Sullivan concludes. "But if he manages just evenly-matched debates, let alone another Romney win, he's a goner."
Read the full post via The Daily Beast
> >Follow Noah Rothman (@Noah_C_Rothman) on Twitter
Have a tip we should know? tips@mediaite.com