Ann Coulter Turned Down These Jokes For the Rob Lowe Roast. So, She Bombed Instead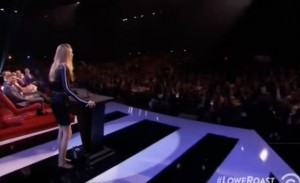 There's not much room for debate here: Ann Coulter was absolutely awful during the Comedy Central Roast of Rob Lowe last night. That is, if you're holding her to a standard of most roasters, whose goal it is to tell some jokes and get a laughs from the crowd.
Coulter hit the comedy abort button from the minute she took the stage, propping open a copy of her new book In Trump We Trust instead and, well, trying her best to be Ann Coulter at a roast instead of just being at a roast.
The court of public opinion was swift. Here are a few headlines from this morning:
Ann Coulter Bombed So Hard on The Comedy Central Roast of Rob Lowe – Jezebel

WATCH: Ann Coulter bombs at Rob Lowe roast — comedians humiliate her, she humiliates herself – Salon

Ann Coulter Bombs at Rob Lowe Roast: The Worst Roaster Since 'The Situation' – The Daily Beast
And lest you think I'm playing partisan witch hunt with liberal editorial sources…
Ann Coulter Booed, Heckled and Relentlessly Blasted at Rob Lowe Roast – The Blaze

Ann Coulter Left Speechless After Being Mercilessly Destroyed During Rob Lowe's Roast – The Daily Caller
Here's her flattest of the flat:
"I'm hoping to persuade you all to vote for [Donald] Trump, most of all I want you David [Spade], because it would prove the media is lying when they say that Trump won't get the vote of a single spade."
Unfortunately for Coulter, it seems as if she should have just taken some of the jokes that the show was providing her.
Mike Lawrence, the comic who recently won Jeff Ross's Roast Battle on Comedy Central, served as a behind-the-scenes writer for the Rob Lowe spectacular last night. Lawrence revealed on a Facebook Live chat that the conservative author refused a number of jokes provided to her by the, you know, professional joke writers. "She does not understand humor or joy," he pointed out.
Some cutting room floor bits included:
"I have to say, Rob, it's nice to finally not be the most hated person in the room."

"Peyton Manning [a fellow roaster on the show] is a model citizen and his forehead is a model for the wall that Trump's going to put between the U.S. and Mexico."

"Ralph Macchio's [another roaster] first ever credit was in the movie 'Up the Academy,' playing a character called Chooch Bambalazi. Are you serious? Even Donald Trump thinks it's too racist to call a wop Chooch Bambalazi."

"That would be like if Jeff Ross' first credit was a character named Mosha Gefilte Fish Streisand Ziegmillianberg. And before you ask, Jeff, I wouldn't fuck you with Hillary Clinton's dick."

"Rob Lowe is like America: He hasn't been great since Reagan was president and unemployment is becoming more and more of a problem for him."

"Giving you a roast is the worst decision Comedy Central's made since they replaced Jon Stewart with a South African child. That's a Trevor Noah joke, the one immigrant I'm most excited to see deported. Am I white, people? Am I white?"
I'm not so sure Coulter could've pulled off the nuance necessary for the am-I-white bit but otherwise, my god, can you imaging if she said the words, "I wouldn't fuck you with Hillary Clinton's dick," to Jeff Ross? It'd be splattered across every site today.
Now, I have to admit that there was one glimpse of Coulter striking gold but moving away too soon. At one point she scoffed, "It's fantastic to be at a big Hollywood shindig with all these glittering celebrities that isn't a fundraiser for Obama," and it hit the left-leaning room flat… but it was wonderfully true. I was hoping that was going to be the rest of her set — true-to-form jokes from a conservative perspective that made the room of liberal loons uncomfortable (cameras even caught Maria Shriver and her son Patrick Schwarzenegger demurred over the truth of the joke.)
This is an opinion piece. The views expressed in this article are those of just the author.