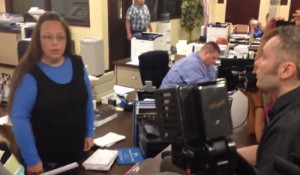 The county clerk in Morehead, Kentucky who went viral back in July for refusing to issue marriage licenses to same-sex couples following the Supreme Court's decision has been ordered to appear before a federal judge.
Kim Davis, along with her entire staff, has been summoned by U.S. District Judge David Bunning following her continued refusal to issue marriage licenses to same-sex couples, and all couples for that matter, on Tuesday.
The clerk's injunction request was denied by the Supreme Court on Monday, meaning that she would not be able to forgo the issuing of marriage licenses as part of her elected position's job description. Yet Davis and her staff still refused to approve and provide licenses on Tuesday.
At one point, she addressed reporters — and one couple in particular — and explained her reasoning. WKYT reporter Hillary Thorton posted the video in four parts on her Twitter page:
Davis came out of office briefly to speak to couple (part 1) pic.twitter.com/lzuHysWi0T

— Hillary Thornton (@HillaryWKYT) September 1, 2015
The couple, David Moore and David Ermold, were rejected by Davis for the fourth time in the video. When Ermold asked the clerk whose authority she was acting under, she responded: "Under God's authority."
Moore and Ermold threatened to stay in place until they were issued a license. Unperturbed, Davis said they were "going to have a long day." She then retreated back into her office and left her staff to deal with the situation.
Legal counsel for the two couples who originally sued Davis asked Judge Bunning to find Davis in contempt, but not to threaten her with jail time.
Since Davis's position is an elected one, she cannot be "fired" in the traditional sense. However, she can be impeached, though since the Kentucky legislature is currently out of session, such proceedings would either have to wait, or be put up in a costly special session.
[h/t Associate Press, Gawker]
[Image via screengrab]
— —
>> Follow Andrew Husband (@AndrewHusband) on Twitter
Have a tip we should know? [email protected]