Conservatives reacted accordingly when the White House announced President Obama's plan to rename Mt. McKinley, named for President William McKinley, after its traditional Athabaskan name, "Denali."
Most of the criticism consisted of the usual accusations — Obama overstepping his power in the executive branch, ignoring the U.S. Congress (where a similar discussion has been ongoing for years), and a litany of other supposedly impeachable offenses.
However, perhaps the most volatile — yet otherwise unsurprising — bit of flack came in the form of a rather misinformed meme. The meme claims that "Denali" is a Kenyan word for "black power":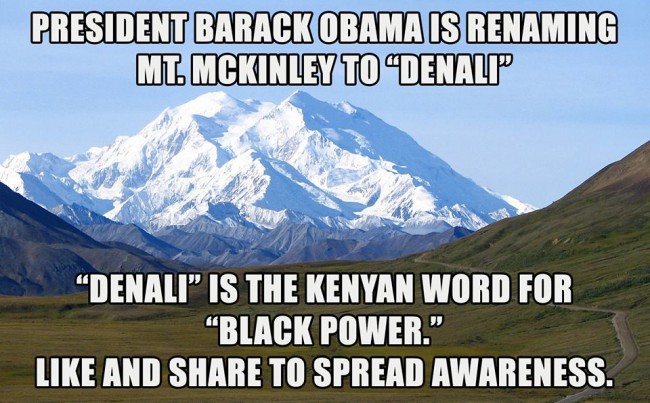 As the fact checkers over at Snopes were quick to point out, however, this is not the case for a variety of easily discernible reasons.
Citizens of Kenya do not speak "Kenyan" because such a language does not exist. Instead, they either speak English or Swahili — the country's two official languages. As for Kenya's other 66 languages, one is dead, five are linguistic imports brought in by immigrants, and the rest mostly consist of east African tribal languages and pidgin dialects. None of these are called "Kenyan."
The word "Denali" has no phonetic or semantic equivalent in any of these languages. Rather, it originates from North America, specifically the indigenous Athabaskan language of the region. The most common English translation is "the great one," though the word famously has no hard-and-fast English referent. Even so, Alaskans have been calling Mt. McKinley by its older, traditional name for quite some time.
"This name change recognizes the sacred status of Denali to many Alaska Natives," U.S. Secretary of the Interior Sally Jewell said in a statement. "The name Denali has been official for use by the State of Alaska since 1975, but even more importantly, the mountain has been known as Denali for generations. With our own sense of reverence for this place, we are officially renaming the mountain Denali in recognition of the traditions of Alaska Natives and the strong support of the people of Alaska."
And perhaps that's one of the more important glossed-over aspects of this whole silly debacle. For while conservative and social media commentators took great pleasure in blaming Obama directly for the official name change, it was actually Jewell's doing. Secretarial Order No. 3337 was created, drafted and approved by Jewell's office — it merely received the White House's blessing.
Or if you want to think about it linguistically, Jewell's order was blessed by President Barack (Hebrew/Arabic roots meaning "blessed") Obama.
[h/t Eric Geller, Snopes]
[Images via Shutterstock.com, Snopes]
— —
>> Follow Andrew Husband (@AndrewHusband) on Twitter
Have a tip we should know? tips@mediaite.com