Aol Partners With Heidi Klum To Give You Advice On Love, Life And Holiday Crafts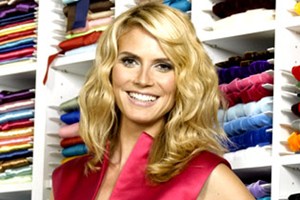 In its continued bid to take over the world (or, at least, to give you things to read while you should be working on expense reports), Aol is trying out a new tactic: Hiring supermodels. The company has tapped Heidi Klum to act as a very expensive content partner. As part of the deal, Klum will offer advice on coverage and will provide video content on everything from love and relationships to parenting to fashion and beauty. Aol won't comment on the particulars, but the partnership is reported to set the company back a cool million, in addition to the 50 percent in ad revenue Klum will receive from the venture.
Ad Age spoke with the model / TV host about her new project. She just wants to give you answers, people, through her special team of experts. And what sort of experts can you expect?
For example, my art teacher. Actually, she's my children's art teacher for the past five years, and we do all kinds of things together. Seasonal things. Like, for Halloween, we'll dress pumpkins together. We made these videos so women can look what can you do with your family. I think these kinds of things are important for women.
The magazine asked a question that had been on our minds, too. "Why would I turn to a supermodel who has probably has a stable of hired help for advice on how to get my womb trolls to eat htir vegetables?" And Klum's answer was just about what we expected:
Ad Age: I can understand how women would be interested in seeking your advice on fashion or beauty, but why should they come to you for advice on parenting or crafts, or anything else?

Ms. Klum: Maybe they don't. I don't know. I feel like I know a lot of great people, and they are experts in what they do, and that's why I have all these people to help me. It is my world — I call it my world — it is really for women who have all different things they're interested in doing. And I think it is up to them, whatever they want. What they want to get from the site. Some people don't want to get makeup — they couldn't care less — and maybe they'd rather know how they can improve their home and how to make their home more beautiful.
In many ways, the deal seems to function quite like traditional print magazines have for some time now: Lifestyle advice and a peek into someone else's slightly more glamorous life. (You don't know my life! It might be glamorous!)
h/t AdAge
Have a tip we should know? tips@mediaite.com