Armchair Pundits Lose It Over Ciara's Dress at College Football Playoff Championship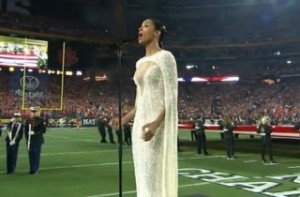 Last night, Alabama defeated Clemson 45-40 to win the College Football Playoffs, continuing a comfortable little dynasty for the university's football program. There was an upset during the game, though, and it had nothing to do with the sport: Ciara wore a dress with a plunging neckline to sing the national anthem and the Internet's eager experts jumped on the chance to decry something new.
The most notable mention of the dress — which included a visible mesh insert over the plunge and a full cape on the shoulders and arms — came from former ESPN reporter Bonnie Bernstein, who chose a particularly patronizing "Dear Ciara," format for her tweet.
Dear Ciara. You're stunning. But this is a National Championship Game. Kids are watching. Cover up.

— Bonnie Bernstein (@BonnieBernstein) January 12, 2016
Her followers were quick to take the bait, responding that her concern for children was invalid when 21-year-olds were about to "destroy each other" in the game and when the cheerleaders were sure to be "half naked." One person even tweeted the reporter a photo of herself on air during an up-skirt shot, captioning it, "On live TV where kids are watching!"
Fox Sports 1 personality Jason Whitlock backed Bernstein up with a tweet that was equally passive-aggressively condescending. Rather than the "Dear Ciara," approach, Whitlock opted for a back-handed compliment.
Appropriate, fair tweet. The dress was inappropriate. Her voice was more than enough. Why distract w/nudity? https://t.co/Fv93ioO7TM

— Jason Whitlock (@WhitlockJason) January 12, 2016
One thing that Whitlock got right, though, is that Ciara's voice was perfect and she killed the anthem.
[image via screengrab]
For more from Lindsey, follow her on Twitter.
Have a tip we should know? tips@mediaite.com