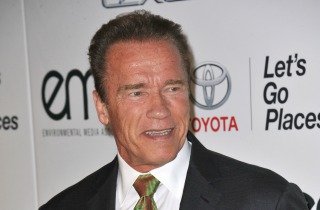 Former California Gov. Arnold Schwarzenegger (R) is not happy with Indiana's controversial new Religious Freedom Restoration Act, which critics have said opens the door to anti-LGBT discrimination. In a new Washington Post op-ed published on Friday, Schwarzenegger called it and similar laws "distracting, divisive" and bad for the country and for the Republican Party.
"As an American, I'm incredibly concerned about what happened in Indiana this week and the threat of similar laws being passed in other states," the former California governor wrote. "As a Republican, I'm furious."
The law has been defended by socially conservative Republicans, but Indiana Gov. Mike Pence (R) faced so much backlash from politicians, business leaders and celebrities that he was forced to call for a "clarification" and "fix" to the law.
Schwarzenegger decried those in his party who "choose the politics of division over policies that improve the lives of all of us" and who "have decided to neglect the next generation of voters." According to him, these religious freedom laws "fly in the face of equality and freedom."
"If we want our party to grow and last, we must be focused on real solutions to problems Americans are facing," he wrote, commending Indiana lawmakers for their "heartening" response to the criticisms. "What happened in Indiana should be a teachable moment for us."
Schwarzenegger concluded:
If the Republican Party wants the next generation of voters to listen to our ideas and solutions to real problems, we must be an inclusive and open party, not a party of divisions. We must be the party of limited government, not the party that legislates love. We must be the party that stands for equality and against discrimination in any form.

We must be the party that originally attracted this young Austrian immigrant.
[h/t TPM]
[Image via Shutterstock]
— —
>>Follow Andrew Desiderio (@forza_desiderio) on Twitter
Have a tip we should know? tips@mediaite.com