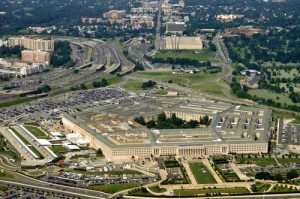 Pentagon officials say any military officials whose official emails turn up in the Ashley Madison hacking scandal won't be investigated, at first.
According to The Daily Beast, the existence of official government emails with U.S. military ties isn't enough to warrant a thorough investigation into whether or not adultery was committed. However, they caution, this doesn't mean that everybody's getting away with marriage malpractice.
Navy spokesperson Cmdr. William Marks said, "We hold all personnel to the highest standards in using government resources, and if revealed government resources were improperly used, we will take appropriate action."
As Army spokesperson Wayne Hall noted, "There is no crime in signing up for a website."
However, what makes things slightly different for the American military is the Uniform Code of Military Justice, which expressly prohibits adulterous relations among its members and within the greater armed services community as a whole. So while celebrities, elites and officials were rightfully alarmed when the first data dump was made public, current and former service members are held to an even higher standard of behavior.
Yet the hack hasn't necessarily provided detailed accounts of the content of Ashley Madison users' alleged affairs — only proof of use. And per The Daily Beast's investigation, that's not enough to immediately sanction any kind of investigation or charges against those in the military whose emails are contained within the data dump.
As one unnamed source notes, any search for military or government-specific emails in the hacked data would equate to "a witch hunt."
[via The Daily Beast]
[Image via Shutterstock.com]
— —
>> Follow Andrew Husband (@AndrewHusband) on Twitter
Have a tip we should know? [email protected]