Audio of Donald Trump Saying Model 'Looks Like a Third-Rate Hooker' Resurfaces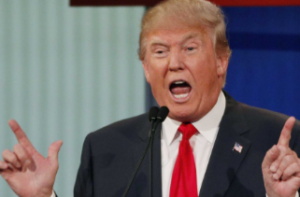 Back in 2004, a model named Victoria Zdrok gave an interview to a guy named Chaunce Hayden. In it, she detailed the way that Donald Trump had called up her bosses at Playboy and requested to meet her under the guise of needing a model to work a campaign for a new casino. As it turns out, he just wanted a model to date. They went out four times.
She told Hayden all about their time together for his magazine, Stepping Out. She said this:
 First of all, he's really arrogant. He's really into himself! On a date all he does is talk about himself. He loves himself! The first thing he says to me on our date is that he's taller and better looking than what he looks like in pictures, and that people don't realize it. He said, 'People don't realize how handsome I am!' He actually loves himself! I never met a more narcissistic person than Donald. You feel just like a piece of jewelry when you're with him. For him it's all about looks, appearances, and signing autographs. He just loves it.
Naturally, Trump wasn't too excited to hear that this interview would be coming out in 2004 as he was beginning the first season of The Apprentice, according to the Daily Beast.
He called Hayden himself and said, "[Zdrok] looks like a fucking third-rate hooker. Gimme a break. I never took her out. She's full of shit. Chaunce, look, I have good taste in women. Take a look at her picture. It's all bullshit. I never took her out … I never took her out, and based on that picture I would never take her out. She's not even attractive, she's not a good-looking girl… Who the hell wants a Penthouse Pet? Penthouse is gone, it's bankrupt, it's over."
Don't believe me? Listen:
Yeah, that's a phone call recording of the presumptive GOP presidential nominee saying a woman looks like a third-rate hooker.
His comments about her are in line with the comments she claimed he made about other women. According to her interview with Hayden, on dates, Trump mused that his ex-wife Marla Maples looked "like shit since she cut her hair off" and then lamented that a woman he really loved having sex with had revealed herself to be half black, so he could not longer be seen with her in public.
Curently, Trump is fighting back against a New York Times profile that accuses him of mistreating women and being disrespectful to them.
[image via screengrab]
For more from Lindsey, get to Twitter or Facebook.
Have a tip we should know? tips@mediaite.com