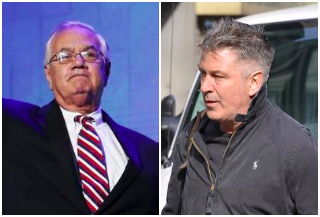 Alec Baldwin and former Rep. Barney Frank (D-MA) came together Sunday afternoon for a screening of the new documentary Compared to What: The Improbable Journey of Barney Frank at the Tribeca Film Festival. Following the film, which Baldwin executive produced, the two men sat down for a panel discussion. It was not until they started taking questions from the audience that the topic of Baldwin's infamous homophobic outburst came up.
A reporter in the audience asked Frank, who was the first member of Congress to voluntarily come out as gay, about his association with Baldwin, who has not been looked kindly upon by the LGBT community. He also asked Baldwin to respond to the same question.
"First of all, each of us is perfectly capable of talking for himself," Frank said. "The notion that when you appear in some common forum with someone that you're each adopting the other's views, no I don't pay much attention to that. And secondly, Mr. Baldwin is perfectly capable of explaining himself, but I don't have any problem with it at all."
Frank may have been setting up Baldwin to "explain himself," but the actor declined the opportunity. "If I could answer that question in the prism of promoting the film, I'll let you know, I'll get back to you," Baldwin said. "But we're here to promote the film." In the audio recorded below, it appeared that Frank had more to say on the topic, but Baldwin effectively cut him off and moved on to the next question.
According to The Boston Globe, which interviewed Frank on the red carpet prior to the event, the former congressman said that Baldwin's outbursts to the contrary notwithstanding," the actor "has been very supportive of gay rights."
Listen to audio below, via WNYC:
[Photos via Jim Young / Reuters, TNYF/WENN.com]
— —
>> Follow Matt Wilstein (@TheMattWilstein) on Twitter
Have a tip we should know? tips@mediaite.com